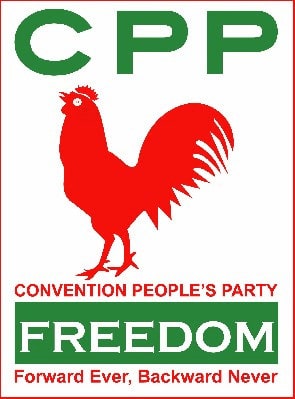 Ghana and the United States have historically boasted a close friendship, partnering together in exchange programs, trade, and development initiatives. However, interactions between U.S. officials and Ghana's first President, Kwame Nkrumah, were not always so smooth. Nkrumah, who studied in the United States, was known to be anti-American, and even went so far as to publish his views in a book on neo-colonialism, in which he blamed the United States for many of Africa's difficulties. This rocky relationship continued until February 1966, when Nkrumah was ousted in a coup while on a trip to China.
In 1949, Kwame Nkrumah formed the Convention People's Party (CPP) with a vision to secure the independence of the Gold Coast from Britain. The CPP quickly gained legislative representation, and in 1956, passed an independence motion which was subsequently approved by the British Parliament. On March 6th, 1957, Kwame Nkrumah declared the Gold Coast independent from Britain and renamed the country as Ghana. The U.S. has history with Ghana that extends back to before its independence. Yet, it was not until 1957 that the U.S. established official diplomatic relations with the country, elevating the Consulate General at Accra to Embassy status. Unfortunately, Nkrumah's nationalist and socialist administration had a short honeymoon and a strained relationship with the United States.
In his oral history, Robert Smith, Ambassador to Ghana from 1976 to 1979 and Desk Officer for Ghana from 1965 to 1966, recounts his impressions of the bold leader and his effect on the newly independent West African nation. Smith joined the Foreign Service in 1955, and served in Pakistan, Lebanon, Nigeria, Ghana, South Africa, Malta, and Liberia.
Robert Smith's interview was conducted by Charles Stuart Kennedy on February 28, 1989.
Read Robert Smith's full oral history HERE.
Drafted by Ashley Young
Excerpts:
"Ghana had been left in really excellent shape by the British . . . . Nkrumah simply ran the country into the ground."
In the Hands of Nkrumah: Q: Why don't we talk about the Ghana time. You were, again, dealing with Ghana at a difficult time. Could you explain what our relations were in 1965 and 1966, how you saw it from the desk?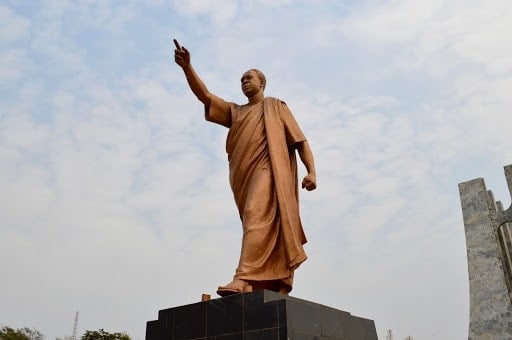 SMITH: Before coming back and taking over the desk I drove overland from Enugu, west to Lagos, and then all the way across the west coast into Accra for a week's visit there with the embassy staff in Ghana. I'd been there before but only briefly. We had a very fine staff there, one of whom, a junior political officer on the staff then, is now our ambassador in Moscow, Jack Matlock. That was where I first met Jack. Kwame Nkrumah was still in power in 1965. And to say that he was difficult for the embassy and the United States Government would be the understatement of the year. He seemed to be, at times, almost losing his mind. Ghana had been left — Ghana was the first to come to independence — in really excellent shape by the British — myths to the contrary notwithstanding. They had a very favorable balance of payments. They had millions and millions in foreign reserves, hard currency. And Nkrumah simply ran the country into the ground by his tortured anti-Western, Socialistic, anti-capitalist attitudes. The strange thing about that initial visit to Ghana was, even though I was being briefed on the idiosyncrasies of Nkrumah, at the same time individual Ghanaians, even senior civil servants, to say nothing of the man on the street, couldn't have been nicer or more blatantly pro-American to the extent of their saying at times that, "You mustn't pay too much about what Osaygefo says." Osaygefo was a name he was called by the Ghanaian people. Ghanaians, perhaps second only to the Ibos, from whom I had just come, are among the most likable, pleasant, nice people in all of Africa. They are simply an enormously likable, warm, generous, outgoing people. I can't find enough adjectives to use with respect to the Ghanaians. It was tragic for us to sit back and see Nkrumah running this country into the ground the way he did, and it was happening right before our eyes. When I went there in 1965, there were still a number of hotels in downtown Accra that served excellent meals. I remember having lunch on the patio of one of those hotels. By the time I went back years later as ambassador, none of them could do that. There was nothing to be had. There was nothing to eat, et cetera. And almost all of it was attributed to Nkrumah's madness. I don't mean that literally.
Q: Was there concern that there might be a mental problem there?
SMITH: I don't think seriously, no.
Q: This was an attitude?
SMITH: An attitude, yes. It was fascinating to deal with it. He was concentrating on the urban areas. And this is an age-old story in Africa where African leaders tend to concentrate on keeping their urban populations happy at the expense of their rural populations. And Nkrumah did this with respect to his cocoa farmers, cocoa being the largest source of foreign exchange. And as a result, they couldn't get people to man to cocoa farms and the country just spun out of control. So much so that, while I was on the Ghana desk nine or ten months later, they had had enough and Nkrumah was overthrown in a coup. They did this in relatively bloodless fashion. While Nkrumah was in the air flying to Red China, he was met on the ground in Peking by his Chinese host and it fell to them to inform him that he was no longer Head of State in the Republic of Ghana. So that was a fascinating time in a fascinating country.
"It was everything we feared it would be. It was awful."
Neo-Colonialism and the U.S. Response: Q: Was our feeling one of passivity towards Nkrumah? I'm talking about the time that you were dealing with it. Were we trying to say enough is enough because the man was attacking us, at least verbally, all the time.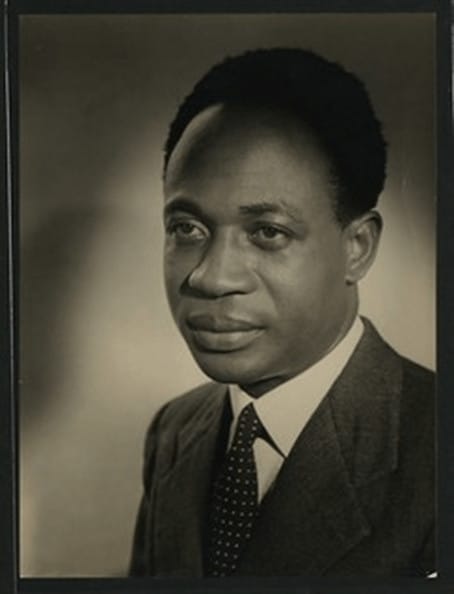 SMITH: He certainly was. We tried for years to get along with Nkrumah. We would turn the other cheek at times and do everything we could to assuage his anger. Nothing worked with him, however. And, again, while I was on the Desk, I think Nkrumah dropped the straw that broke the camel's back, so to speak, in that he published a new book called Neo-Colonialism. I've forgotten the subtitle, which was simply outrageous. It accused the United States of every sin imaginable to man. We were blamed for everything in the world. The book was so bad that I remember the then Assistant Secretary, G. Mennen Williams, called me up and gave me that book and said, "Bob, I know this is bad. I don't know how bad. I want you to take it home tonight and read it. You're not going to get any sleep and I apologize for that, but on my desk, by eight o'clock tomorrow morning, I've got to have a written summary of this because I have called the Ghanaian ambassador in at ten o'clock tomorrow morning. We're going to protest this book."
There had already been advance publicity so we knew it was bad, but we hadn't had our hands on a copy. And it was everything we feared it would be. It was awful. And the next morning—of course, he had me in on this meeting as the note taker—a lovely, old man, Michael Ribiero, was the Ghanaian ambassador. Hated Nkrumah privately, but was a good soldier trying to put the best face on this, a career officer in their foreign service and very respected here and in Ghana. Governor Williams, of course, was a relatively mild-mannered man. I had never heard Soapy Williams raise his voice until that conversation. Neither have I ever heard an ambassador get a tongue lashing like Ribiero got from Assistant Secretary Williams that morning. He, unfortunately, tried a couple times to interrupt the governor when he was making a point. He had my notes in front of him. And at one point, when Ribiero interrupted him, said, "Just a minute, Mr. Ambassador, don't interrupt me. I'm not through." And he continued to go on. He was raising his voice. He was shaking his finger in the ambassador's face. And it was a very painful, hour-long interview. To put it mildly, he protested vigorously the contents and publication of this book . . . .
"When I related how Nkrumah had landed in Peking and had been informed by his Chinese hosts of what had happened in Ghana, Dean Rusk broke into an ear-splitting grin. I've never seen him look so happy."
Nkrumah's Overthrow: I think the publication of that book might also have contributed in a material way to his overthrow shortly thereafter. The Ghanaian people, as I say, did not share Nkrumah's views on many things. The Ghanaians have always had a warm relationship with the United States. Nkrumah simply, as the British say, went round the bend and they got a belly full of it and booted him out of office. I also remember, the morning of the coup, I got the call about 2 a.m. here at the house and went into the Department and immediately set up a little task force in the Operations Center. Later in the same morning, about 8 or 8:30, Secretary Rusk wandered down the hall and came in and said, "I've seen the early reports, but I just want to hear it firsthand. What's going on in Ghana?" When I related how Nkrumah had landed in Peking and had been informed by his Chinese hosts of what had happened in Ghana, Dean Rusk broke into an ear-splitting grin. I've never seen him look so happy . . . . Enough was enough.
Q: I know there's been accusations . . . that the CIA had been involved. Did you have any feel towards that while you were there?
SMITH: Yes. We had been accused of that all along. There was nothing to it. I mean, it was obvious that we were not among his legions of supporters, but neither were we involved because there was no reason to be involved. The Ghanaian military were quite capable of dealing with this on their own, as they did. Unfortunately, the government that followed was, in its own way, almost as bad as Nkrumah's. We had high hopes for it, but it didn't materialize. In just a few years that civilian, truly democratic government, elected in a free election, was itself overthrown by the military because they hadn't been able to correct the economic imbalances and so forth, and there was corruption, which just seemed to be endemic. So Ghana then went on without any direct involvement on my part until I later went back as ambassador years later . . . .
TABLE OF CONTENTS HIGHLIGHTS
Joined the Foreign Service 1955
Lahore, Pakistan—Consular Officer                                                                                    1956–1958
Washington, D.C.—Desk Officer for Ghana                                                                       1965–1966
Pretoria, South Africa—Deputy Chief of Mission and Minister Counselor                 1967–1974
Valletta, Malta—Ambassador                                                                                                1967–1974
Accra, Ghana—Ambassador                                                                                                   1976–1979
Monrovia, Liberia—Ambassador                                                                                           1979–1981