When Vice President Biden sat next to then Chinese Vice President Xi Jinping at a dinner in 2012, Xi asked Biden why he held human rights in such high regard. Vice President Biden responded with a cool confidence that it was part of American foreign policy's "DNA"—a non-negotiable value of the United States. Throughout his career as a senator, vice president, and future role as president, Joe Biden has kept his word by remaining steadfast in his belief that human rights and democracy are key goals of American diplomacy.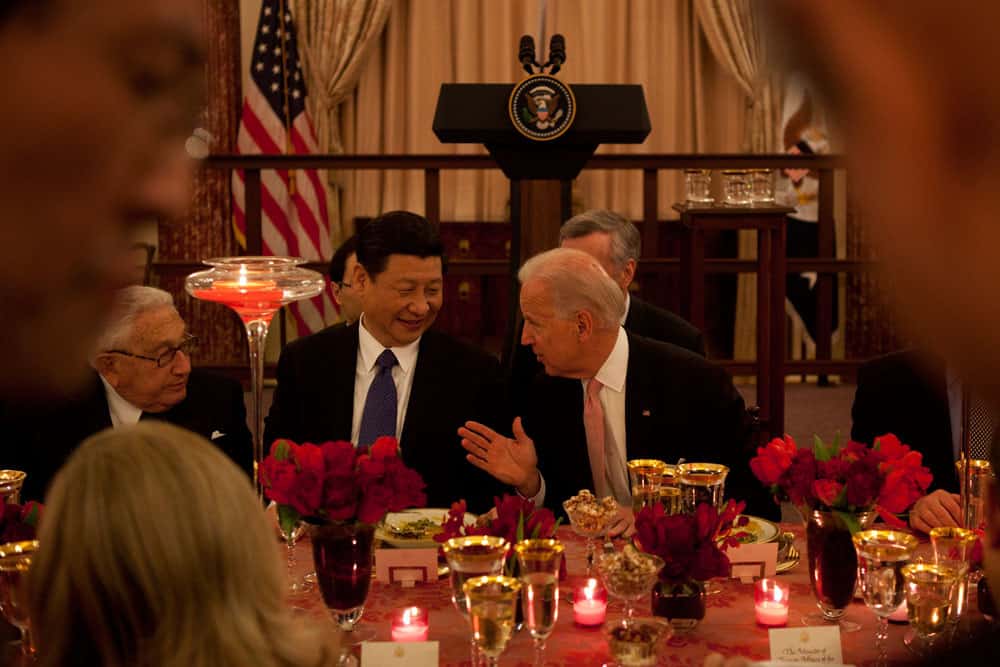 Biden complements these American values with a profound technical knowledge of U.S. diplomatic missions and international political conditions on the ground. In this "moment" in U.S. diplomatic history, we draw from ADST's oral history archives for stories by Foreign Service Officers about Biden's history in international relations that may shed light on how President Biden will approach the world. For example, his experiences working with Israel and Kosovo helped visualize "Biden the diplomat" in action.
Kosovo
Vice President Biden visited Kosovo twice during his tenure—in 2009 and 2016. Kosovo is a Balkan nation that declared its independence in 2008, which was recognized by the United States, but not by other major powers like Russia. A budding democracy and victim of horrible human rights abuses during the 1999 Yugoslav war, Kosovo critically needs continued support from American officials. Joe Biden and his late son Beau Biden supported Kosovo via political assistance and military service, respectively. U.S. Ambassador to Kosovo, Greg Delawie observed Biden in action during his 2016 visit and briefed him before the meeting with the Kosovar President. Ambassador Delawie described Vice President Biden as "very articulate" on Kosovo's political situation; and when Biden did not use notes during his meeting with the Kosovar president, he displayed "the knowledge he clearly had." Kosovo's president had suggested naming a new highway after Beau to honor the memory of Biden's late son—who had spent time in Kosovo during his military service—and the family's support for human rights in the country. During the 2016 trip to Kosovo, Vice President Biden took part in the dedication ceremony and affirmed that he is a key ally to the democratic process in Kosovo.
Israel
As a lifelong public servant with a long career in the U.S. Senate Joe Biden's views on Israel and the Middle East Peace Process have remained consistent. He has advocated for U.S. support for Israeli democracy and security. Miles Pendleton, a Foreign Service officer who interacted with then Senator Biden at a 1982 meeting in Pittsburgh of the Zionist Organization of America, described Biden as "a very good friend of Israel" with a clear passion for Israel. Biden's relationship with the Israeli-American community translated well into Biden's time as vice president. Ambassador Alan D. Solomont, moreover, reminisces on a moment during the American Israel Public Affairs Committee, where Biden delivered a speech in front of an audience of three thousand people in Washington, D.C. Notwithstanding Joe Biden's record on Israel, he also focused on Israel's relationship with the Palestinians, and supported efforts to secure Israeli-Palestinian peace and Palestinian economic development.
Conclusion
The office of the vice president holds important responsibilities. Joe Biden, however, took the position to challenge the office and to dedicate his time serving the interest of the United States abroad. From Israel and Palestine to Kosovo, Joe Biden dedicated a significant part of his political tenure as vice president to foreign policy. Several Foreign Service officers witnessed Biden's interactions with world leaders during the Obama administration. These officers shared with ADST their view of the former vice president's time in office. As Biden assumes the presidency facing several international challenges from abroad, including from China, his conversation with President Xi will probably echo in his mind. The United States will remain strong in its commitments to its allies and human rights around the world.
Drafted by Derek Gutierrez and Gray Gaertner
Read the full oral history of Ambassador Greg Delawie HERE.
Read the full oral history of Ambassador Alan D. Solomont HERE.
Read the full oral history of Miles Pendleton HERE.
Excerpts:
Ambassador Greg Delawie
Zagreb, Croatia—Deputy Chief of Mission 2004–2007
Berlin, Germany—Deputy Chief of Mission 2009–2012
Pristina, Kosovo—Ambassador 2015–2018
"His very moving remarks started off with his son Beau, who had been there years ago helping to create the country."
Vice President Biden with Chinese Vice President Xi and Secretary Kissenger
Joe Biden's work on Kosovo:
DELAWIE: So basically what we did is there were a couple of substantive meetings, one with the Kosovo president and his staff and one with the prime minister and his staff. I was the only embassy American that was allowed to join those two meetings, which was terrific for me to see how Biden operated. He was very articulate. He had almost no notes that he was working from, but he ended up talking very substantively about what was going on in Kosovo and what he thought should happen, which was basically that the Kosovo government had to get its act together and start working more for the benefit of the country and exercising more leadership in delivering what the citizens of Kosovo wanted. It was a terrific set of remarks.
Then we went to Camp Bondsteel where the highway was to be named and there was a marker with Beau Biden's name. And we had dressed up a parking lot, basically, to use for the VP's public remarks. His very moving remarks started off with his son Beau, who had been there years ago helping to create the country. Then he moved on and talked about policy things. So it was a great PD [public diplomacy] event that mixed the ceremonial with the policy. I had seen his notes for his remarks and they were relatively short, but he talked for about twenty-five minutes, mostly ex temp. So I was just very impressed with what he did, and the knowledge he clearly had about what was going on in Kosovo, because a lot of what he said was not in the notes. I was able to brief VP Biden in the hotel before these meetings started. He clearly paid attention to what I said based on what he said at the private substantive meetings with the president and the PM [Prime Minister]. I really appreciated that. He asked terrific questions. It was one of the greatest career experiences I had, interacting with the vice president of the United States. Someone whom I respect tremendously. It was clearly one of the highlights of my entire Foreign Service career.
…………………………………………………………………………………………………………………………………………………………………..
Miles Pendleton
Tel Aviv, Israel––Consular Officer/Staff Assistant 1968–1970
London, England––Political Counselor 1985–1989
Paris, France––Political Counselor 1989–1993
"He was quite wound up and turned to the crowd and announced that we had a pin-stripe diplomat from the State Department, one of those traitors to the State of Israel…"
Joe Biden at the Zionist Organization of America:
PENDLETON: And as time went on, the Secretary decided that we would strengthen the security relationship with Israel on the military side, and we spent a great deal of time developing a stronger military and general defense relationship, which involved having generals visit back and forth, having joint sessions with the Israelis in a form that we hadn't had, moving them through from being friends to partners to allies. And this was one of the major decisions which George Shultz made when he, to a degree, tilted towards Israel. Our office had to put the tilt in place. At the same time, our office was lobbying for more aid to Israel and for forgiving Israeli loans and converting them into grants. We were attempting to communicate with friends of Israel, not always easy. For example, I went out to Pittsburgh to address the annual meeting of the Zionist Organization of America in late April of 1982. I followed Senator Biden to the podium. He was quite wound up and turned to the crowd and announced that we had a pin-stripe diplomat from the State Department, one of those traitors to the State of Israel, and that he hoped the entire audience would smash me with questions. He added that unfortunately he had to leave and couldn't hear my attempts to respond. And that was pleasant. People lined up behind a microphone and let loose with some of the rankest emotion that I've ever been subjected to in such a setting. It was my daughter's birthday, and I was missing her birthday party to do this (and I told them I was, and that she'd been born in Israel and that I would appreciate a bit more civility).
Q: Well, what about Congress on this? I mean, the thing like Joseph Biden—this is sort of a gratuitous slap in your face.
PENDLETON: Yes, I told him so when he came through London later, and he just kind of laughed and said he couldn't really recall the event.
Q: What was this? I mean, did you find that there was almost a sort of mindless subservience to "whatever Israel wants we'll give you" in certain circles in the Congress?
PENDLETON: Well, among certain people. Biden, for instance, is a very good friend of Israel. If you are going to agree to speak to the Zionist Organization of America, which is more firmly committed to Israel than many other organizations, you know you're going to have a crowd that will be sympathetic if you say things which show that you are with them even though the opposition is strong. Ironically when he did so in Pittsburgh, George Shultz was in Jerusalem, and it was just interesting to me that he would pull the stops out quite so far.
…………………………………………………………………………………………………………………………………………………………………..
Ambassador Alan D. Solomont
Ambassador to Spain and Andorra 2009–2013
"Being able to deliver the message of the American Jewish community, that this is what will best secure Israel's future, is a much more important issue."
Joe Biden speaks at AIPAC
Q: Basically would you say it's sort of a mild antidote to AIPAC (The American Israel Public Affairs Committee)?
SOLOMONT: Well, that's what everybody says. J Street was created because not enough members of Congress were hearing a voice from the American Jewish community that supported a negotiated settlement. They were hearing a different message from AIPAC. AIPAC's been a hugely successful organization, and hugely successful in telling Israel's story to our elected officials. J Street was created to provide an additional voice that at times differs from AIPAC's voice. It's an organization I want to reengage with now that I'm back. What J Street wants to do is two things: one, it wants to provide financial support to candidates in both parties for Congress, by and large, but not exclusively, who will support an approach to the Israeli Palestinian conflict that backs peace talks, and a two-state solution. And yes, we gave money to candidates, which is one way we established a dialogue with them. So yesterday we had a breakfast in Boston to benefit a congressman from Vermont named Peter Welch, who was one of the earliest people to be endorsed by J Street. An endorsement by J Street means members of J Street will make political contributions to that candidate. So you know, the money thing is not irrelevant. Being able to deliver the message of the American Jewish community, that this is what will best secure Israel's future, is a much more important issue. You know, the amount of money that J Street gives is recognizable and not unimportant, but it's not a game changer. They just had a conference in Washington attended by 3,000 people. Vice President Biden spoke, Nancy Pelosi came and made an appearance. So it's actually developed some legs. And money's a part of it.