A vice presidential visit is a major diplomatic event. These visits can either be part of a crisis management strategy, or be used to cement diplomatic relations with countries that have just begun to gain prominence on the international stage. During his years as vice president, now-President Joe Biden traveled to many countries, making an impression on the Foreign Service officers who helped host him. In this "Moment," we highlight his diplomatic visits to Iraq and Mongolia.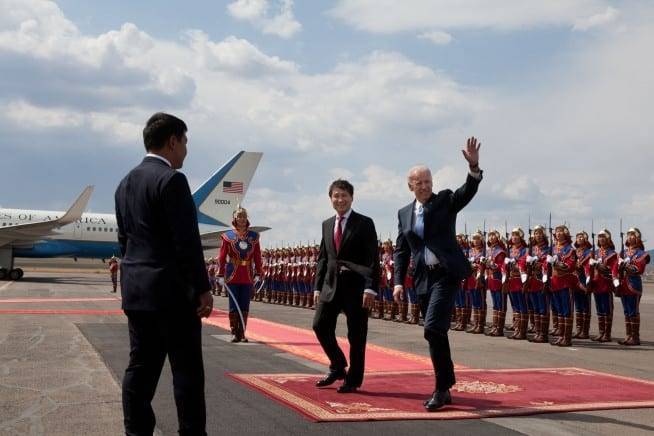 In August 2011, Joe Biden embarked on a diplomatic visit to Mongolia. Despite the country's small size, it was still a relevant regional ally. The United States had grown closer with Mongolia in the years since the end of the Cold War and the country's subsequent transition to democracy; so continuing to foster the relationship was important. In addition, given Mongolia's relations with neighboring China and Russia, it was important for the United States to maintain a presence in the region. While Biden's visit involved lots of entertainment and cultural activities, there were no doubt more important matters at hand—Biden's visit occurred at a time when U.S exports to Mongolia were significantly increasing. Moreover, Ambassador Jonathan Addleton recounts that the visits from both Biden and Hillary Clinton meant even more as their own political ambitions grew.
By contrast, Biden's visit to Iraq took place under much more loaded and inauspicious circumstances. In 2010, the year of Biden's visit, the Obama administration was working to phase U.S. troops out of Iraq. The war had become increasingly unpopular, with the American public increasingly demanding the troops return home. As the United States weighed potential candidates for the role of Iraqi prime minister, Biden voiced his support for maintaining Nouri al-Maliki in this position—for pragmatic reasons, as he considered the U.S. status-of-forces agreement held with Iraq.

As recounted by Ali Khedery in the case of Iraq and Ambassador Jonathan Addleton for Mongolia, this "Moment" is a part of an ADST series highlighting President Biden's accomplishments and experiences in interactions with the Foreign Service across our archives, in honor of his inauguration on January 20, 2021.
Jonathan Addleton's interview was conducted by Mark Tauber on December 11, 2017.
Read a "Moment" by Ali Khedery, re-published by ADST and originally published by The Washington Post HERE.
Read Ambassador Jonathan Addleton's full oral history HERE.
Drafted by Artemis Katsaris and Miranda Allegar
ADST relies on the generous support of our members and readers like you. Please support our efforts to continue capturing, preserving, and sharing the experiences of America's diplomats.
Excerpts:
"Within days of Biden's visit to Baghdad, Soleimani summoned Iraq's leaders to Tehran."
Ali Khedery
From 2003 to 2009, Khedery was the longest continuously serving American official in Iraq, acting as a Special Assistant to five U.S. ambassadors and as a Senior Adviser to three heads of U.S. Central Command. He previously had been the senior adviser to ExxonMobil on the Middle East. He is currently the chief executive of Dragoman Ventures, an international strategic advisory firm.
Khedery on Iraq: In conversations with visiting White House senior staff members, the Ambassador, the generals and other colleagues, I suggested Vice President Adel Abdul Mahdi as a successor [for the role of Iraqi Prime Minister]. A former Baathist, moderate Shiite Islamist and French-educated economist who had served as finance minister, Abdul Mahdi maintained excellent relations with Shiites, Sunnis and Kurds as well as with Iran, Turkey and Saudi Arabia.
On Sept. 1, 2010, Vice President Biden was in Baghdad for the change-of-command ceremony that would see the departure of Gen. Ray Odierno and the arrival of Gen. Lloyd Austin as commander of U.S. forces. That night, at a dinner at the ambassador's residence that included Biden, his staff, the generals, and senior embassy officials, I made a brief but impassioned argument against Maliki [incumbent premier] and for the need to respect the constitutional process. But the Vice President said Maliki was the only option. Indeed, the following month he would tell top U.S. officials, "I'll bet you my vice presidency Maliki will extend the SOFA," referring to the status-of-forces agreement that would allow U.S. troops to remain in Iraq past 2011.
I was not the only official who made a case against Abu Isra. Even before my return to Baghdad, officials including Deputy U.S. Ambassador Robert Ford, Odierno, British Ambassador Sir John Jenkins and Turkish Ambassador Murat Özçelik each lobbied strenuously against Maliki, locking horns with the White House, U.S. Ambassador Christopher Hill and Maliki's most ardent supporter, future deputy Assistant Secretary of State Brett McGurk. Now, with Austin in the Maliki camp as well, we remained at an impasse, principally because the Iraqi leaders were divided, unable to agree on Maliki or, maddeningly, on an alternative.
Our debates mattered little, however, because the most powerful man in Iraq and the Middle East, Gen. Qassim Soleimani, the head of the Quds Force unit of Iran's Revolutionary Guard Corps, was about to resolve the crisis for us. Within days of Biden's visit to Baghdad, Soleimani summoned Iraq's leaders to Tehran. Beholden to him after decades of receiving Iran's cash and support, the Iraqis recognized that U.S. influence in Iraq was waning as Iranian influence was surging. The Americans will leave you one day, but we will always remain your neighbors, Soleimani said, according to a former Iraqi official briefed on the meeting.
After admonishing the feuding Iraqis to work together, Soleimani dictated the outcome on behalf of Iran's supreme leader: Maliki would remain premier; Jalal Talabani, a legendary Kurdish guerilla with decades-long ties to Iran, would remain president; and, most important, the American military would be made to leave at the end of 2011. Those Iraqi leaders who cooperated, Soleimani said, would continue to benefit from Iran's political cover and cash payments, but those who defied the will of the Islamic Republic would suffer the most dire of consequences.
"America's Iraq policy was soon in tatters."
I was determined not to let an Iranian general who had murdered countless American troops dictate the endgame for the United States in Iraq. By October, I was pleading with Ambassador Jeffrey to take steps to avert this outcome. I said that Iran was intent on forcing the United States out of Iraq in humiliation and that a divisive, sectarian government in Baghdad headed by Maliki would almost certainly lead to another civil war and then an all-out regional conflict. This might be averted if we rebuffed Iran by forming a unity government around a nationalist alternative such as Abdul Mahdi.
It would be extremely difficult, I acknowledged, but with 50,000 troops still on the ground, the United States remained a powerful player. The alternative was strategic defeat in Iraq and the Middle East writ large. To my surprise, the Ambassador shared my concerns with the White House senior staff, asking that they be relayed to the President and Vice President, as well as the administration's top national security officials.
Desperate to avert calamity, I used every bit of my political capital to arrange a meeting for Jeffrey and Antony Blinken, Biden's national security adviser and senior Iraq aide, with one of Iraq's top grand ayatollahs. Using uncharacteristically blunt language, the Shiite cleric said he believed that Ayad Allawi, who had served as an interim prime minister in 2004–05, and Abdul Mahdi were the only Shiite leaders capable of uniting Iraq. Maliki, he said, was the prime minister of the Dawa party, not of Iraq, and would drive the country to ruin.
Ambassador Jonathan Addleton
Ulaanbaatar, Mongolia—Ambassador 2009–2012
Kandahar, Afghanistan—Senior Civilian Representative 2012–2013
Almaty, Kazakhstan—Mission Director 2013–2015
"Joe Biden basically came and went in a matter of hours."
Vice President Biden and Prime Minister Sukhbaatar Batbold (2011), David Lienemann Official - White House photo
Addleton on Mongolia: For a small country numbering only three million people, there was considerable interest in the relationship with the United States. During my time as ambassador, Vice President Biden and Secretary of State Clinton both visited. The U.S. Secretary of Energy visited as well. So, for a small Embassy, we did not lack high-level attention. Actually, we actively sought such attention, especially because it had been a long time since Mongolia had hosted senior visitors from the United States. The last such visitor had been President Bush, the only sitting U.S. president to visit the country. He had visited in 2005, four years previously. But by now Mongolian officials were beginning to ask when the next important visit would take place.
As I observed, senior Mongolian officials begin to notice if there hasn't been a senior visitor from Washington in the last several years. It doesn't want to be "taken for granted." So, if a Russian leader or a Chinese leader or the head of state from another country has recently visited, senior officials want to know when the next senior American visitor will be passing through town.
Fortunately, we were able to respond with visits by the Vice President and by the Secretary of State as well as our Secretary for Energy. Again, it demonstrated that the United States had a full range of relationships with Mongolia. It wasn't simply one of those small micro countries in the middle of nowhere that didn't matter much. On the contrary, we had mutual interests that mattered and they were worth talking about, including at the highest levels . . . .
It was interesting, too, to become more involved in a variety of diplomatic events that did not necessarily involve an aid component. The annual strategic dialogues involving Assistant Secretary Kurt Campbell was one such aspect. Also, even as we worked on encouraging senior visitors such as Vice President Biden and Secretary of State Clinton to visit Mongolia, we also sought ways to ensure that senior Mongolian visitors received visibility in Washington, DC.
One such visit involved President Elbegdorj who very much wanted to meet with President Obama in the Oval Office. In the end, his trip wasn't labeled as a formal "State Visit." But it did involve a "drop in" meeting with President Obama at the White House as well as a longer and more formal meeting with senior U.S. officials at Blair House which hosted Elbegdorj and his delegation. The meeting with President Obama was very hard to get but in the end it happened.
President Elbegdorj also placed a wreath at the Tomb of the Unknown Soldier at Arlington Cemetery and visited wounded American soldiers at Walter Reed Hospital, touching gestures that reflected the human side of the relationship. Elbegdorj himself had studied at Harvard's Kennedy School and felt at home in the United States, the place where one of his children was born.
Elbegdorj's visit also included meetings on the Hill. The Mongolian caucus was also quite active at the time. Both Vice President Biden and John Kerry had been members when serving in Congress and seemed to have a soft spot for Mongolia, despite their other responsibilities. So Elbegdorj also had an opportunity to give a speech on the Hill about democracy while in Washington, D.C. It was nice for the head of state of a small country like Mongolia to get this kind of attention.
And then there were visitors in the other direction. As I mentioned, President George Bush remains the most senior American official to ever visit Mongolia. This happened when Ambassador Slutz was ambassador and the visit was memorable in every way. But that presidential visit had occurred five years earlier and was receding into the background. Now the Mongolian government hoped for other senior American visitors and they seemed to have been waiting for a long time.
Many years earlier, before Mongolia and the U.S. had established diplomatic relations, then Vice President Henry Wallace who served under President Roosevelt, had stopped briefly in Ulaanbaatar as part of a much longer Asian tour where he was met by large numbers of people. His visit is still remembered in Mongolia to this day.
We were very happy when the Vice President's office announced that Joe Biden would come to Mongolia—the first American Vice President to do so since Wallace visited during the later stages of World War II. From our perspective as an Embassy, the Biden visit was successful despite its brevity, lasting only around six hours.
We managed to include a cultural aspect in the program, one that involved a "Mini Naadam" en route back to Ulaanbaatar Airport, following his meetings with senior Mongolian officials in the center of town. This Nadaam included an introduction to the "three manly arts" of Mongolia—archery, wrestling, and horse racing. It also involved a brief musical performance.
It is common practice in Mongolia to give a horse to a senior VIP visitor. We briefed Biden's staff on this beforehand, advising them that the horse would need a name. Joe Biden called his horse "Celtic" after his Irish forebears. Of course, the horse is not brought back to the United States. Rather, it is handed over to a herder family living in the countryside. Supposedly, such a horse is never ridden again.
It was all a lot of fun. My parents happened to be visiting at the time and attended the Mini Naadam. My mother met the Vice President, talked to him about his mother, and was bemused when he briefly kissed her on the cheek.
Biden is very much a people person and he also hammed it up during his encounters with Mongolians, briefly adopting a wrestling pose when facing off with one of the huge Mongolian wrestlers and then attempting to shoot an arrow toward a nearby mountain. Of course, such events are usually heavily choreographed ahead of time. But Biden also improvised, making a positive impression on those around him.
Secretary of State Hillary Clinton turned out to be our last official visitor during my three-year assignment in Mongolia. She arrived the week before I departed for Home Leave and then my onward assignment in Afghanistan. She had visited Mongolia as First Lady and was already familiar with what to expect.
This time it was Mongolia's chairmanship of the Community of Democracies that prompted her visit, combined with a meeting that the Government of Mongolia was sponsoring centered on the role of women in politics. And again we at the Embassy were thrilled when word came that she would definitely attend.
In planning for the trip we convinced her team that she should consider staying in Mongolia for more than a few hours. As it happened, Mongolia would be part of a much longer ten-day journey around the world, the longest of her time as Secretary of State. Joe Biden basically came and went in a matter of hours. However, we convinced Secretary Clinton to overnight, catch her breath and see something of the Mongolian countryside. We suggested that she stay at Terelj National Park rather than in a city hotel.
"If nothing else, Biden was historically aware."
Again, it turned out to be a memorable visit, at least for Fiona and I. We drove to Terelj after the official meetings and after the meet and greet with Embassy families and staff. Finally, it was possible to relax. We were asked to join the Secretary for dinner in a ger, just the six or eight of us. It was a nice opportunity to see the human side of high powered politicians, in the case of Hillary Clinton, a potential next president of the United States.
Looking back, I remember that I used almost the same phrase to welcome both Vice President Biden and Secretary Clinton to Mongolia. For Biden, the lines were "Welcome to Mongolia, Mr. Vice President." For Clinton, the lines were "Welcome to Mongolia, Madame Secretary." I never imagined that I would speak such lines on the tarmac of Genghis Khan International Airport to either a Vice President or a Secretary of State, both of whom probably had aspirations to eventually run for President.
The protocol after the official airport greeting is to the introduce the senior visitor to the Foreign Minister, which I did. At one point, I reminded Biden that he was the first Vice President to visit Mongolia since Henry Wallace. Biden wasn't too impressed, simply stating, "And look what happened to him." Of course, Wallace was later dumped as Roosevelt's Vice President; he was also trounced when he ran for president as a third party candidate a few years later. If nothing else, Biden was historically aware.