Looking through the American Lens: Photography USA Exhibit in the Soviet Union
During the prolonged years of the Cold War, USIA [United States Information Agency] executed over a dozen exhibits highlighting components of American life to be shared with the people of numerous cities throughout the Soviet Union. Ranging from areas of transportation, to education, to medicine, these exhibits introduced the citizens of the USSR to America's most prominent technological innovations as well as the general way of life in the United States.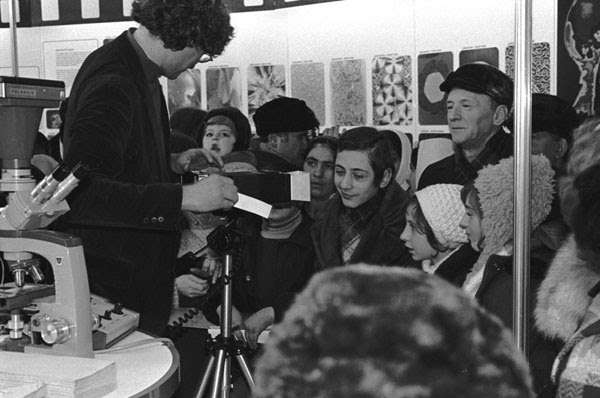 One of USIA's most enticing exhibits was entitled Photography USA. Attracting more than 1.5 million visitors, Photography USA displayed over 800 photographs depicting American life. While the exhibit provided the opportunity for Soviets to explore different aspects of American society, Photography USA also allowed many university students and recent college graduates to travel overseas to the Soviet Union with USIA to act as exhibit guides. Two exhibit guides who would later go on to enter the Foreign Service were Philippe Du Chateau and Jane Miller Floyd.
Exhibit guides were key players in these USIA exhibits in their direct interactions with the Soviet people, which helped to further extend the hand of diplomacy during these tensive times. In this "Moment" in U.S. diplomatic history, Du Chateau and Floyd not only highlight the work that went into the exhibit, but also the unique reaction of the Russian visitors and Soviet authority as they experienced Photography USA.
Philippe Du Cheateau's interview was conducted by Charles Stuart Kennedy on August 18, 2011.
Read Philippe Du Cheateau's full oral history HERE.
Jane Miller Floyd's interview was conducted by Charles Stuart Kennedy on December 6, 2004.
Read Jane Miller Floyd's full oral history HERE.
Please see another article on the Photography USA exhibit entitled "'A Tribe of Exhibit People': American Guides Recall Soviet Journey" by Izabella Tabarovsky appearing in The Wilson Quarterly.
Drafted by Jacqueline Chianca
ADST relies on the generous support of our members and readers like you. Please support our efforts to continue capturing, preserving, and sharing the experiences of America's diplomats.
Excerpts:
"Sometimes we would go to a city where there was not a suitable building for our show."
Preparation:
FLOYD: They bring you to Washington for two weeks and some of it is language preparation…. Part of it is the substance of what you are going to do. The exhibit I was on was about American photography, so they took us up to New York and took us to the International Museum of Photography and we had professional photographers along with us. We went to their studios to see their work. At the time, there was no Peace Corps operation in the former Soviet Union, but the exhibits became a very fertile breeding ground for future diplomats….
DU CHATEAU: Sometimes we would go to a city where there was not a suitable building for our show. I can remember at least three, Zaparozhiye, Novosibirsk, and, oddly enough, Moscow for the Photo USA show….
We built large geodesic domes for the exhibit in those cities. A USIA construction specialist and I would go to the site a month or so early and supervise Soviets who would lay down a cement or asphalt pad, and put in bolts to fasten the structure down. Then, when the guides came to town, we would take all the tubing out of containers and bolt the construction together, and finally cover it with a thick fabric skin. It took about a week to do all this, but we got good at it.
"They were so glad to have us around. They loved the contact with the outside world."
The Real Interest:
FLOYD: The actual photography equipment, the photographs, were a tool. We could have had rocks. I think the real interest was in actually seeing Americans. When we were in Ufa you would have people come up and say, "Thank you, thank you, thank you, thank you, thank you." And it turned out that what they wanted to thank you for was that their family had survived on American spam through World War II.
There were any number of people who had never seen a real live American before. . . . It was amazing how many of the questions were about prices. How much does bread cost? How much does a car cost? And just trying to convey to people the diversity of America, that I can't tell you how much a loaf of bread costs. Are we talking Wonder bread or gourmet wheat tops? Because for them, whether it was in Moscow or in Madagan, there were three different kinds of bread, and they were the same prices, regardless of where. They were so glad to have us around. They loved the contact with the outside world. They would search out any example of previous contact. They loved it.
DU CHATEAU: They were enormously curious and of course they appeared not to believe anything we told them. Did they? We didn't know. You could see that all the time we were talking, they were trying to put themselves into life in the U.S. What would life be like for them, is this car for real, can anybody buy this car, how much does an average worker make, how much does bread cost? Just about any question you could think of coming at you as fast as people could ask.
"All our books, of course, the Soviets would look at, to make sure that they didn't contain anything 'bad'."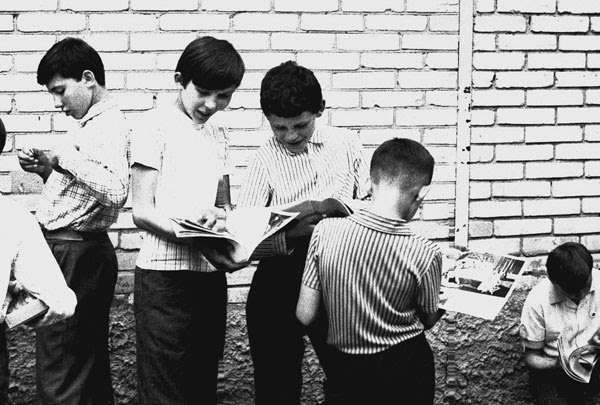 Soviet Control and Censorship:
DU CHATEAU: But if we are talking about provocateurs and Soviet crowd control: here's an example. When we went to Ufa, Bashkiria, in 1973. . . we had enormous crowds, 10 to 15,000 people a day, maybe more. The hall could hardly hold them. A couple of years later we went back to Ufa with another exhibit, this one about photography, and nobody came to the exhibit. Well, people came, but not in the numbers we had earlier. That is, instead of the 10 to 15,000 a day, we'd be down to 5,000 or 4,000 a day. Visitors told us that they, whoever they were, went around to the factories and said, in effect, "You will not show up, you will not go." So, the first time around, they didn't have good control and the second time around, they had real good control.
DU CHATEAU: We had a small library in each exhibit that a limited number of people could visit. All our books, of course, the Soviets would look at, to make sure that they didn't contain anything "bad." I remember one of the books they didn't allow us to put in the Photo USA library was a National Geographic book about Alaska. They would never tell us why a book was rejected, but we think in this case it was because it had a picture of Solzhenitsyn [Russian novelist] in it. We weren't trying to do anything, but the Soviets were super sensitive and so they would check through all books, and there were a couple of hundred, I suppose.
TABLE OF CONTENTS HIGHLIGHTS
Philippe Du Chateau
Education
Chinese, Indiana University 1963–1964
BA in Russian, Cornell University 1968–1971
Russian Language Program, Middlebury College 1970
MA in Soviet Studies, Harvard University 1971–1975
Joined the Forign Service 1979
Sofia, Bulgaria—Assistant Public Affairs Officer 1981–1984
Moscow, Soviet Union—Assistant Information Officer 1984–1987
Helsinki, Finland—Public Affairs Officer 1995–1999
Jane Miller Floyd
Education
BA in Russia, University of Washington 1973–1976
Joined the Foreign Service 1980
Moscow, Soviet Union—Rotational Officer 1980–1982
Leningrad, Soviet Union—General Services Officer 1985–1987
Vladivostok, Russia—Consul General 1996–1998