Whether being assigned to a new post, taking on a new position, or learning a new language, the careers of Foreign Service Officers (FSOs) are continually evolving. However, they are often not alone on their diplomatic journeys. Many Foreign Service Officers carry out their duties overseas alongside their spouses. While there are certain responsibilities that traditionally fall on the shoulders of these spouses, changes made by the State Department over the last fifty years have provided the freedom for some partners of Foreign Service Officers to pursue their own passions and goals in their various postings. One Foreign Service spouse who took advantage of her international travels during her husband's assignments was Bonnie Miller.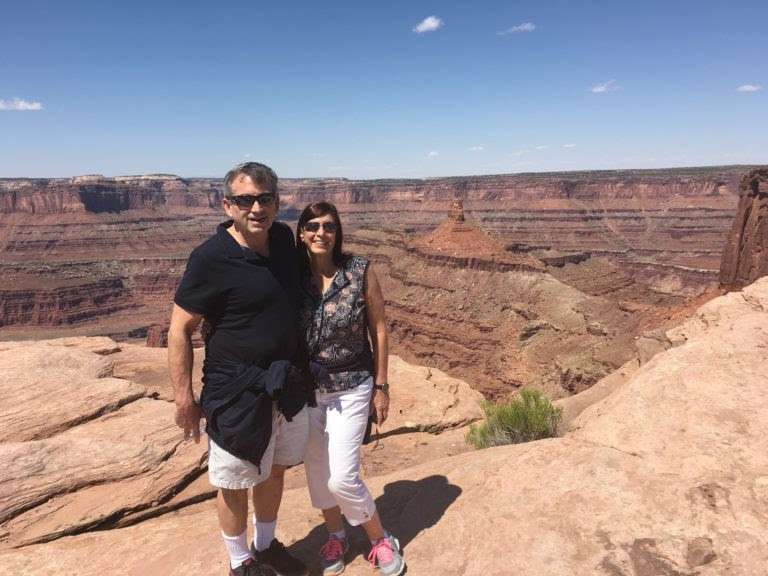 Married in 1969, Bonnie met her husband, Thomas Miller, during their high school years over a decade before Thomas joined the Foreign Service. They both attended the University of Michigan where Bonnie earned degrees in psychology and social work. While Thomas's work for the State Department began in 1976, it did not mean the end to Bonnie's focus on her areas of study. Whether it was in Bosnia or Thailand, Miller kept up her passion for psychology and social work by teaching at various international universities, working as a mental health coordinator in the local communities, and executing numerous workshops and conferences on topics such as parenting and education. However, some of Miller's most notable initiatives include her anti-trafficking work in Athens, Greece.
Miller's work in human trafficking began during her husband's service in Sarajevo, Bosnia after visiting shelters run by the International Organization on Migration for women who had been victims of trafficking. Coming in as mental health professional, Miller took the time to listen to their stories and would further educate herself on human trafficking issues by visiting dozens of women in Albania, Kosovo, Bulgaria, and Thailand to listen to their experiences and raise awareness regarding this global issue. Through her work in these various locations, Bonnie was able to successfully continue her mission against human trafficking when she and her husband moved to Greece for Thomas's ambassadorship.

Bonnie enacted the first steps of crucial change for Greece that focused on the safety of women and protection against the horrors of human trafficking. While not an FSO or government employee herself, Miller was nevertheless able to work alongside her husband as he contributed to her initiative by speaking with various foreign ministers and other prominent officials. Named one of the State Department Trafficking in Persons Heroes Acting to End Modern-Day Slavery, Miller's dedication and action to effect change is just one example of the work Foreign Service spouses can accomplish overseas. In this "Moment" in U.S. diplomatic history, Bonnie Miller highlights the trafficking issues in Greece and expands on the steps taken to address the problem and move Greece into better standing on a global scale regarding its policy on crimes against women.
Bonnie Miller's interview was conducted by Mark Tauber on August 20, 2020.
Read Bonnie Miller's full oral history HERE.
Read another Moment about wives and women in the Foreign Service HERE.
Read another account of a Foreign Service spouse HERE.
Drafted by Jacqueline Chianca
ADST relies on the generous support of our members and readers like you. Please support our efforts to continue capturing, preserving, and sharing the experiences of America's diplomats.
Excerpts:
"I had talked with dozens of women and heard their traumatic stories and thought, 'I really need to do something.'"
Women Being Tricked into Trafficking:
MILLER: I had talked with dozens of women and heard their traumatic stories and thought, "I really need to do something, raise awareness, get legislation enacted, establish shelters, etc." Doctors of the World was a fantastic NGO that was starting to work on counter trafficking, so one of the first things they did was to invite me to give speeches at their conferences. I kept thinking, "This is Greece; they're in the EU. So of course their problem can't be like Bosnia, which had been through a war." But Greece was worse because trafficking was so accepted, and these girls were tricked when they were trafficked in. They thought they were going to be waitresses in Greece, and they were deceived and raped through Serbia and Bulgaria and held as prisoners in bars, similar stories as the women coming from Moldova and Romania. Similar stories, but the situation was worse because it was kind of accepted in Greece. Cheating on your wife was very accepted, and it was better, in the minds of many, to cheat on your wife with some anonymous foreign girl than with your neighbor or your kid's teacher or your secretary. So we really had a lot to do to change attitudes.
"She should be home pouring tea. It is not her position to comment on trafficking in our country."
Thomas and Bonnie Miller (2016) | (Courtesy photo)
Breaking through to the Media:
MILLER: On UN Human Rights Day 2001, a few months after I came to Greece, I was invited to be on a panel to talk about trafficking. On my panel was my husband—the U.S. ambassador—the ombudsman, the chief of police of Athens, and Gregoris Lazos, who was a professor at Panteion University, one of the top universities in Greece. So my speech was, "Here are these girls and they're deceived, and you might think that they're prostitutes making a lot of money, but they are actually their sex slaves."
So what did the press pick up on? "This is the ambassador's wife. Why is she talking about this? She should be home pouring tea. It is not her position to comment on trafficking in our country." Every single publication reported this on day one. Day two, "She's a psychologist. Does she know anything about trafficking after her experience in Bosnia? Maybe she does." Third day: "Do we have a problem in this country?" Fourth day: "Maybe we should be listening to the expert," who was Dr. Lazos. So it very quickly evolved during the week from the role of the ambassador's wife to stay home and shut up to "maybe this woman has some experience and maybe she's telling the truth." So that was the start of it, and thereafter I was highly sought after by the media.
"It's much more complicated than just a law."
Advocating for Legislation:
MILLER: Tom and I kind of divided things up. He would work with the ministers of what they called the "competent" ministries and I would work with the deputy ministers, just educating and lobbying them. And then came the first TIP report, the 2000 Trafficking in Persons report that the State Department started publishing annually, and Greece was on Tier Three, the worst rating. So together, Tom and I met with the foreign affairs person who was in charge of foreigners and immigration, and we said, "Guess what? Turkey has moved up to Tier Two, and Greece, along with Afghanistan, Iran, Iraq, and some other countries that you don't want to be associated with, is still on Tier Three. Is that where you want to be? What you have to do is to pass a law." So the government finally passed a law in 2002.
But as you know from the Trafficking in Persons Office, it's much more complicated than just a law. Governments are required to have plans for prevention, prosecution of traffickers, helping the victims, public awareness and all of that. So it was a long slog, but by the end of my time there, anti-trafficking initiatives were starting to move forward.
Then I decided for all of the "competent" ministries that I would write some suggestions. I wrote recommendations in English for what each ministry needed to do to comply with the law for prevention and prosecution and protection of women and how they needed to address this problem. Little did I know that word for word, it would be translated, and it became the Greek National Action Plan against Trafficking. I read it in Greek and I'm like, "Wait, this sounds familiar." They had great aspirations, and little by little, they started moving forward.
TABLE OF CONTENTS HIGHLIGHTS
Education
BA in Psychology, University of Michigan 1966–1970
MA in Social Work, University of Michigan 1970–1972
Foreign Service Spouse
Chiang Mai, Thailand 1979–1981
Athens, Greece 1985–1987
Sarajevo, Bosnia 1999–2001
Athens, Greece 2001–2004