When William Lacy Swing left Port Elizabeth, South Africa in 1966, he vowed to never return until the end of Apartheid. Twenty-three years later, Swing did just that, returning to South Africa as the United States ambassador. Thanks to the relationships he had formed early on in his Foreign Service career, especially throughout his time in Port Elizabeth, Ambassador Swing was one of the first people outside the African National Conference (ANC) to welcome Nelson Mandela back to freedom.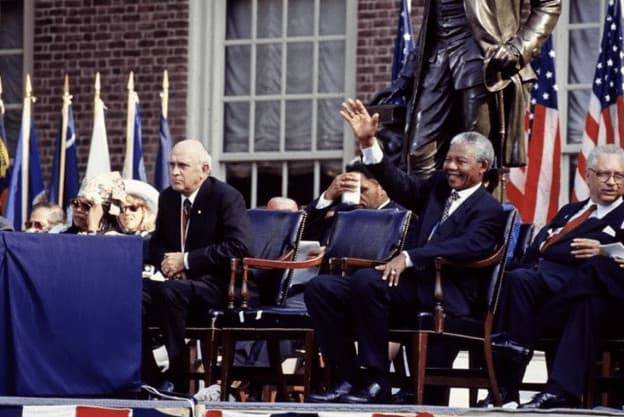 During his first tour in South Africa, Swing served as the second of two members of the Port Elizabeth Consulate. This assignment allowed Swing to build relationships with founding members of the ANC, who were concentrated in the nearby Bantustans. At this time, Nelson Mandela was already on trial, preparing to spend the rest of his life in prison for his protest against Apartheid. When William Swing returned, South Africa was nearing the end of Apartheid and nearing Nelson Mandela's release from prison. Meanwhile, F.W. De Klerk and the ANC were beginning private negotiations to end Apartheid. In this "moment" in U.S. diplomatic history, we see that while the U.S. was not a party to the negotiations, Ambassador Swing leveraged his connections to gain important information from key members of the ANC and his neighbor and friend, Archbishop Desmond Tutu.
In addition to serving as ambassador to South Africa, William Swing served as ambassador to the People's Republic of the Congo, Liberia, Nigeria, Haiti, and the Democratic Republic of the Congo. He also served as the Director of the Office of Foreign Service Assignments and Career Development.
William Lacy Swing's interview was Conducted by Robin Matthewman on April 7, 2021
Read William Lacy Swing's full oral history HERE.
Drafted by Evan G. Rothman
ADST relies on the generous support of our members and readers like you. Please support our efforts to continue capturing, preserving, and sharing the experiences of America's diplomats.
Excerpts:
"They called up Paris, Rio de Janeiro, Tokyo, Vienna, et cetera. When they came to my name, they said, 'Port Elizabeth.'"
F.W. de Klerk, left, the last president of apartheid-era South Africa, and Nelson Mandela, his successor, wait to speak in Philadelphia, Pennsylvania. (1993), Carol M. Highsmith, Library of Congress.
On his first post: I was just so happy to get into foreign service. I remember them asking me something about, "What's your aspiration in the Foreign Service? What would you like to be?" I said, "I have very low-level aspirations." I said, "I would hope that someday, I could perhaps be a Consul or a Consul General." You know, I didn't know what else to say. They probably thought I didn't have much ambition. In any case, we had a class of about 21, I think. And then on the day, when we finished all of the orientation, they had a day where they announced your assignment. And they called up Paris, Rio de Janeiro, Tokyo, Vienna, et cetera. When they came to my name, they said, "Port Elizabeth." Where's Port Elizabeth? Nobody knew. I didn't know either.
Of course, it's in South Africa, the southernmost city in Africa. And it's a consulate, not an embassy. So I thought they were sending me some kind of a signal or something. But I happily went through the various courses and went off to Port Elizabeth, at the age of 21. It was a two-person post, a Consul and me as the Vice Consul. But you know, in retrospect, it turned out to have been, propitiously, a very positive aspect of my career. Why? Because Port Elizabeth––they've closed it now––it was a consulate, and it was established for two reasons. One, that's where all the American investment was––Ford, General Motors, General Tire, Firestone, Goodyear, et cetera. And, it was the center of all of the African National Congress leadership in the Transkei and the Ciskei (independent territories in South Africa that were designated for settlement and self-rule by Xhosa peoples) which we covered––not the embassy. And so early on, I followed the ANC. I didn't get to know Mandela, because at the time I arrived in 1963, he was already on trial and being sentenced to spend his life on Robben Island.
"[I] came back 27 years later, as ambassador to welcome [Mandela] back to freedom."
How he became Ambassador to South Africa: I think George Vest was the driving force. He appreciated my work so much. I think the bureau's choice, the African Bureau's choice, was probably Princeton Lyman. And when they had the ambassadorial committee meeting, George Vest just simply argued and said, "No, Bill Swing is the person to do this job. He started his career there. He's an African hand. He's been all over black Africa. This is a critical moment. Mr. Mandela is still in prison. He was there when Mandela went to prison. And I think he's the man for the job." And he held the day. And then of course, Princeton, who's a great friend of mine, Princeton succeeded me there. He had hoped to go to South Africa that year, in 1989. But he had to wait his time. And I think he went as ambassador to Nigeria or to Kenya, I've forgotten which, and then he did succeed me immediately when I left.
So I had the chance to be there at the historical moment of Mr. Mandela's release, and I'm probably the only living diplomat who was on his first assignment in South Africa, when Mandela was arrested and sent to Robben Island. And who came back 27 years later, as ambassador to welcome him back to freedom.
"Once he was out, everybody wanted to come to South Africa, see Mandela, get a glimpse of him, get a handshake . . ."
Mandela's Release from Prison: They were preparing the terrain for Mandela's release, everybody knew he's going to be released at some point. But they wanted to make sure that it was done with as little damage to the country as possible. And with the best prospects for some kind of a negotiated solution, which they carefully prepared, to give them a lot of credit for it. Mandela was sort of in and out of this confinement area for negotiating sessions, even before he was released, and everybody knew it was going to happen but not when exactly. And I knew a journalist who was well connected and who told me that I will phone you before he's released, so that you will know. Sure enough, I was playing tennis on the weekend and I got a call about three o'clock in the afternoon. I didn't play any more tennis for months after that, because I knew this is it, he's coming out.…once he was out, everybody wanted to come to South Africa, see Mandela, get a glimpse of him, get a handshake, get an autograph, get a photo. And I mean, we had so many people, movie stars, Whoopi Goldberg, Paul Simon the musician, you had Randall Robinson brought out, Jesse Jackson, and all kinds of people. Everybody wanted to come see Mandela. So that itself began to open up South Africa. We began to look at the elimination of the cultural boycott, the sports boycott, all of that. In Washington, they began looking at how do we begin to lift sanctions? And of course, the Congressional Black Caucus was very reluctant. They were saying "No, no, we have to see more change first." And I think they were right, to a large extent, because it was too soon to start lifting all this. And we did it in the end very, very gradually. I remember giving a reception for Whoopi Goldberg in the garden of our residence in Pretoria, and I invited about five hundred people; I think about eight hundred showed up.
"[Mandela and De Klerk] never became friends, and they never would. But they were practical men who recognized they needed one another."
Mandela and De Klerk: The great contribution of De Klerk, people don't realize or don't give him enough credit for, was that he faced enormous resistance from the Afrikaner community, a very conservative crowd. And they saw him basically as a traitor. He really had to bring them along. They had very conservative voices there, constantly trying to undermine him. The interesting dynamic here was how Mandela and De Klerk helped one another. When Mandela would be seen by the black community as moving too slowly. De Klerk found a way to cut him some slack. And when De Klerk was in trouble with the Afrikaner community, the very conservative crowd, Mandela would find a way to cut him some slack and to help him either by what he said or what they did and so on. But the dynamic between those two was really quite remarkable. They never became friends, and they never would. But they were practical men who recognized they needed one another. And they had to help one another with each other's constituency, or it wasn't going to work, to succeed.
TABLE OF CONTENTS HIGHLIGHTS
Education
Bachelor of Arts, Catawba College 1953–1956
Bachelor of Divinity, Yale University 1958–1961
Post-Graduate Studies, University of Tübingen 1961–1963
Joined the Foreign Service 1963
Port Elizabeth, South Africa—Vice Consul 1963–1966
Washington, D.C.—Director, Office of Foreign Service Assignments and Career Development 1985–1989
Pretoria, South Africa—Ambassador 1989–1992