The Liberian Civil War was doubtless one of the most devastating conflicts in recent history. Spanning from 1989 to 2003, an estimated 250,000 Liberians were killed during the war, and countless more were victims of atrocities. Liberia was founded in 1820 by freed enslaved people from the United States and Carribean, and had long struggled with tensions between the settlers—who traditionally dominated politics—and indigenous ethnic groups.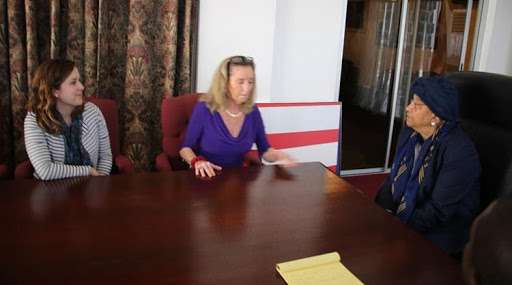 In 1980, Samuel Doe, a member of the Krahn ethnic group, came into power after leading a coup d'état against the government, ultimately triggering tensions with other ethnic groups. In 1989, Charles Taylor, a former government official, launched a rebellion against the Liberian government. The country descended into chaos as government forces and various ethnic militias battled for control. The war was characterized by atrocities such as mass rape and the use of child soldiers. In 2003, the violence became so intense that ECOWAS (the Economic Community of West African States) troops arrived in the besieged capital of Monrovia to stop the attack and depose Taylor.
In addition to the role of the international community, the peace activism of Liberian women was instrumental in ending the war. Having been the victims of some of the worst atrocities of the conflict, the women of the Women of Liberia Mass Action for Peace campaign captivated the international community with their sit-ins, protests, and insistence on peace negotiations that ultimately helped bring an end to the war. When the war ended, politician and economist Ellen Johnson Sirleaf was elected as president, making her the first female head of state in Africa. But although the conflict had ended, the scars left on Liberian society would persist. This was the case when USAID director Pamela White arrived in Liberia in 2008. Despite the challenges, Pam was inspired by the reconstruction efforts of women from Liberia and the international community.
After the civil war, Liberia needed to be rebuilt from the ground up. Almost every institution had been destroyed during the war, the economy was in shambles, and the country was in tremendous debt. President Sirleaf was tasked with rebuilding the country, and USAID was there to help. Initially, USAID focused on supporting refugees with basic programs such as food distribution. However, Pam knew that USAID would need to work with President Sirleaf to create more innovative programs that would rebuild the Liberian economy. With Pam as director, USAID staff threw themselves into creating programs for job training, literacy, health programs, and more. Post-conflict rebuilding proved incredibly challenging. Little oversight existed for the patchwork of aid programs, leading to corruption. People continued to struggle with the trauma of the civil war. But with the women's leadership, USAID managed to create several successful programs that still exist to this day, including programs for education and infrastructure development. The Liberian experience showed the world that women should be leaders in conflict resolution and reconstruction.
Pamela White's interview was conducted by Mark Tauber on May 17, 2017.
Read Pamela White's full oral history HERE.
For more Moments on the Liberian Civil War click HERE.
Drafted by Artemis Maria Katsaris
ADST relies on the generous support of our members and readers like you. Please support our efforts to continue capturing, preserving, and sharing the experiences of America's diplomats.
Excerpts:
"The entire population was mentally and physically suffering."
The Trauma of the War: Every single person in Liberia who stayed through the war had seen nothing but horror for ten years. We were not dealing with normal development problems. The entire population was mentally and physically suffering. We knew it was going to take at least two generations to get the general population's mental state to a place one might describe as normal. The ambassador, Thomas-Greenfield, and I would go visit schools and groups of young people. She and I observed that you'd almost see a dead look in their faces, because they had gotten to a point where no hope existed. When your entire existence is surrounded by extreme violence for YEARS, it is difficult to recover.
"The four of us, we four women, had our hands on just about every single diplomatic and development and defense program of any consequence in Liberia."
Women Working Together: The head of the UN special forces was a woman—a Dutch woman. She was fabulous! And then of course Ellen Johnson Sirleaf was the president. The four of us, we four women, had our hands on just about every single diplomatic and development and defense program of any consequence in Liberia. The USAID budget was around $400 million. The American ambassador in Liberia is by FAR the most important diplomat in the country. Liberia was founded by American slaves and Liberians look first to the United States for just about everything including money, advice, protection. Ellen Johnson Sirleaf is American educated, highly motivated, highly intelligent. The head of the UN security forces was also a decorated foreign service officer in her own right.
"President Sirleaf had a clear vision of what Liberia could and should look like ten years out."
Rebuilding Liberia: To have the ability to run around the country with these three great women and strategize about the future of Liberia was just an exciting, fabulous opportunity. We talked all the time, we worked hand in glove and pulled in ONE direction. President Sirleaf had a clear vision of what Liberia could and should look like ten years out. She knew where she wanted the country to go and she laid out her priorities clearly for us all. We really did start things moving tremendously well in the right direction. There was NO doubt who was in charge. President Sirleaf is the only President that I ever worked with that took on donor coordination directly. Once a month she would get us all together and we would have to report to her what progress or lack thereof had been made on her established priorities. These were very tough and informative meetings—the most effective that I have ever attended. Presidents or the number two in government SHOULD coordinate donors. Coordinating should not consist of just having each donor tell what they are doing in the country. This is the norm and doesn't work well. President Sirleaf told the donors what to do and where to do it. This is an excellent model. Together we designed some extremely innovative programs that, when I went back just last year, some of them—a couple of them—were still ongoing and were showing real results. So that was a fabulous thing for me to see with my own eyes.
"I was there for about a year and a half when Secretary Clinton came to visit…"
A Visit from Hilary Clinton: I was there for about a year and a half when Secretary Clinton (former U.S. Secretary of State Hillary Rodham Clinton) came to visit with her chief of staff Cheryl (D.) Mills. The two of them had intensive talks with the ambassador and me. It was just the four of us in a room for over two hours going over our policies and programs. I don't think either the Ambassador or I had any notes—we knew our programs by heart. We lived and breathed them every day. Linda and I were so in sync we could finish each other's sentences. The Secretary listened intently and was extremely pleased with our results to date. She remarked Linda and I had the kind of relationship she wanted to see in every country where USAID and STATE worked together. The Secretary said, "I just don't understand why when I go to other embassies there seems to be knocking of heads between the two agencies. We are all ONE team." She mentioned the close USAID/State relation in Liberia often in meetings after that. Liberia was an example that she wanted to see all over the world.
"We had a woman president (of Liberia), we had a woman ambassador, we had a woman mission director, and we had a woman who was head of UN Peacekeeping."
President Sirleaf Welcomes Pamela White's Investment to Liberia (2016) | Front Page Africa Online
Connecting with Women Leaders: Here's another good example of STATE/USAID relationships. (Former U.S. Secretary of State) Hillary Clinton was at a meeting with Linda Thomas-Greenfield when she was ambassador, and I was mission director in Liberia. Linda and I could literally finish each other's sentences. And she (Clinton) said, "This is how I want an embassy to work." Because Ambassador Thomas-Greenfield and I had spent so much time together—in every possible setting—we were absolutely linked. We met ministers together, we ran meetings together, we travelled throughout Liberia with each other. Literally she could start a sentence and I could finish it. AND we genuinely liked each other—that was an added plus. Secretary Clinton was very impressed with how we worked together. She would mention our relationship many times in speeches. Liberia was such a unique country. We had a woman president (of Liberia), we had a woman ambassador, we had a woman mission director, and we had a woman who was head of UN Peacekeeping. The four of us traveled together. We talked together. We found solutions together. It was just a great way to run a country.
"You must monitor, monitor, monitor."
Accomplishing Goals: You must understand the USAID program in Liberia grew so big so fast after the war ended. For many years, it was all about refugees and food distribution. There weren't enough people to have good oversight. There were lots of vacancies. The minute I got there, and I started saying to my people, "We're not growing anymore programs until you go out and see how they're doing." You must monitor, monitor, monitor. I said, "I want to see those trip reports. I want to make me see through words what you saw in real life. I want to have the same reporting data sheet for every trip. How many people did you see? Were they meeting the goals of the program? Did you see any impact?" We started a new evaluation contract. I did this in Tanzania too. So, the contractor hired people to be our eyes and ears on the ground. I had a computer set up on my desk that allowed me to review progress every day if I so chose. If I saw no field trips and no mini evaluations, I would immediately go and find out the problem. Again, we owe oversight to the U.S. taxpayers.
"We're going to set up vocational training so we can rebuild Liberia."
Creating an Educational Program: We had established centers . . . . We hired teachers and trained them. We gave them lesson plans and workbooks but none of these materials were being used. It had gotten to the point if Liberians would commit to showing up three or four nights a week, they would be counted as literacy students. The teachers would serve some tea and coffee. I immediately realized there was no learning going on. There was a lot of socializing occurring, but the United States Government wasn't supposed to be funding social clubs. The next day I asked the Chief of Party to come to my office. I told him that I had not observed any teaching being done in the center. It didn't appear they were learning anything. He was adamant that I had just not seen a good class. He assured me great strides were being made. He kept repeating enrollment was over projections by eight thousand students!!! I told him that I was going to have a rapid assessment team come out to Liberia as soon as humanly possible. This program had been going on for two years and I didn't think we should wait until the three-year mid-term evaluation to try to understand what was going on. He thought for a while and told me that he would certainly work with any team that came out to Liberia to assess progress, but he added that it might be a good idea for me to read the terms of the contract. He told me that none of the measurables in the contract had any mention of literacy or numeracy goals. All the milestones had to do with number of teachers trained, number of centers established, number of students attending the classes. He told me that the goal of 5,000 students had been surpassed by eight thousand. Therefore, the contract had to be considered a great success. I told him that the big numbers of students meant nothing if they weren't learning anything. He didn't seem too worried. I asked the contracting officer to send me a copy of the contract and the COP was correct!! There was not a word in there about what levels of literacy and numeracy needed to be reached. I was dumbfounded. What a horrible contract. Although I am sorry to say this has happened over and over with USAID contracts. We like to count things and not results. But I didn't care that the measurables weren't in the contract. Everyone understood the goal of the money being spent was to increase literacy and numeracy. I brought a rapid assessment team out to Liberia and within two weeks I had the dismal news that almost no progress whatsoever had been made. No one could count beyond ten. I said, you know, "This entire program has to change. We're going to tie literacy to skills. We're going to set up vocational training so we can rebuild Liberia. There's going to be a reason to learn to read and count. It was nice that people had come together to share stories and drink some tea, but that simply would not do. They were not helping to build Liberia. At first the contractor was extremely reluctant to change course. He told me that his company didn't get paid to link literacy to vocational training. He said it wasn't in the contract. Period. I was blunt with him. I have always felt that as a Mission Director I had to get the U.S. taxpayers the most for their money. I wanted them to take pride in USAID's work. I didn't think the U.S. people or Congress would be impressed with what had been achieved so far. I told the contractor he could keep leaning on an exact reading of the contract or he could agree with the intent and change course. I said I was returning to DC very soon and would be happy to tell a great success story (we had a problem we turned it around, success is on the way) or I could do just the opposite and give them the facts of how little learning had taken place in a country that screamed for education. I told him that I was good at spreading news in DC. I know lots of staffers, I know all the power people in USAID and STATE, I have a huge network. He could come to the table and negotiate, or I would have to quietly use the power of words and truth. Finally, the president of the company came out and he knew immediately that the contract would have to be redesigned. It took us a year, but we did it. And it was a fabulous program. Parts of it are still going today I believe.
TABLE OF CONTENTS HIGHLIGHTS
Education
BA in Journalism, University of Maine 1971–1973
MS in International Development, School for International Training 1973–1975
MA in National Resource Strategy, Industrial College of the Armed Forces 1989–1989
Joined the Foreign Service 1978
Monrovia, Liberia—USAID Director 2008–2010
Banjul, The Gambia—Ambassador 2010–2012
Port-au-Prince, Haiti—Ambassador 2012-2015