When it comes to determining the world's greatest films, we may focus on Italian giants of neorealism like Bicycle Thieves or moody, existential dramas from France. But what truly makes a film great? Is it a measure of perfect cinematography and sound? Or a matter of generational context and the perspective that time provides? We reevaluate these standards every time we watch a Friday movie or tune in to the Oscars. Film, like many other forms of art, exists as a medium for both entertainment and introspection. In diplomacy, film is used for even greater purposes. For USIA [United States Information Agency] Policy Officer McKinney Russell, the impact of cinema expanded far beyond yearly contests for awards and debates of style over substance.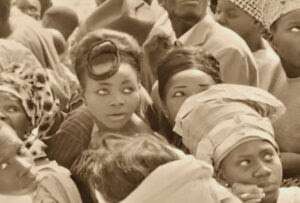 During his service in the African area of USIA, namely in the Congo, Russell was granted about three million dollars to fund documentary films about Africa. The ongoing Civil Rights Movement at the time garnered interest in African affairs, and films about the continent were created to satiate the demand. These films showcased a nuanced perspective of Africa that relished in the talents of its vast people and cultures. One film that Russell noted as particularly spectacular was a piece directed by William Greaves, documenting the First Festival of Negro Arts held in Senegal in 1966. Greaves, an African-American filmmaker from Harlem, became a close friend of Russell's throughout and long after his service. Another film about the Second Festival of Negro Arts, this time held in Nigeria, was commissioned and produced in late 1967. The Peace Corps in Niger was also featured in several films to showcase international assistance in the region.
However, films funded by USIA were not only made to highlight artistry and humanitarian work within Africa. Other works, such as a series of programs called "Century III," were ordered to inform Kenyans about American history and culture. These projects were ultimately made to provide Americans with a better understanding of Africa as well as to provide Africans with insightful knowledge of America. In this "moment in U.S. diplomatic history," we can appreciate through Russell's service in Africa the greatness of film's ability to inform, educate, and inspire.
McKinney Russell's interview was completed by G. Lewis Schmidt on May 10, 1997
Read Russell's full interview HERE.
Drafted by Desirée Winns
ADST relies on the generous support of our members and readers like you. Please support our efforts to continue capturing, preserving, and sharing the experiences of America's diplomats.
Excerpts:
"There were some very good film-makers in the Agency, and we had a cadre of documentary film makers with whom we would work on contract. During my 2 years as Policy Officer, we must have made 8 or 10 documentary films."
Documentary Films in Africa During the 1960s:
It turned out to be a particularly rich assignment because Africa was very much on our minds as a nation and a Foreign Service. The Peace Corps had its first volunteers in many countries in Africa. Interest in Africa was also very high in part because the mid-'60s were a time of surging civil rights activism in the United States. As a result, as Policy Officer, I had a budget of close to three-quarters of a million dollars a year to make films for Africa. It was an extremely interesting time to work with creative film-makers. At that time, George Stevens, Jr. was head of the Film Service, a man of great creativity. There were some very good film-makers in the Agency, and we had a cadre of documentary film makers with whom we would work on contract. During my 2 years as Policy Officer, we must have made 8 or 10 documentary films. One dealt with the Peace Corps volunteers in Niger, another was about visits to the United States by statesmen like Senegalese President Leopold Senghor.
One spectacular film about the First Festival of Negro Arts held in 1966, in Senegal, was a particular success. The film-maker who made that film was a highly talented black documentary film-maker named William Greaves. He and I have remained friends to this day as a result of our collaboration on that film. Greaves is currently making a lengthy documentary on the life and work of Ralph Bunche, and he was here in Washington this week for the dedication of the library of the Department of State as the Ralph Bunche Library. In any event, those experiences in the film world were very broadening for me personally, conceiving what a film ought to do, working with the film-maker, and then taking it through the process of rough-cut and fine-cut to see how the film came out in policy terms and artistically. Defining the policy consideration and balancing them against the artistic concerns of the film-maker himself—these were extremely interesting issues. Now, some of the films that were made later in the '60s and in the early '70s, particularly those relating to the events in Southeast Asia, touched off some very serious differences and controversies. Some of those films were, of course, never even released, as we know. But these were more simple, straightforward days, and I recall them with a great deal of satisfaction. I hope very much that those documentaries that we made for Africa in mid-'60s are still in the Agency archives and haven't been lost. I know that Greaves's excellent film about the Festival of Negro Arts is still extant. I saw it 5 or 6 years ago. We also made a film about the Second Festival of Negro Arts in Nigeria, which would have been in perhaps late '67, but it was a good deal less successful a film.
"We made 13 half hour films in the series called "Century III" and launched a series of films called "Reflections". The idea there was to identify Americans of great distinction in their fields, in the autumn years of their lives and to do in-depth documentaries about their work."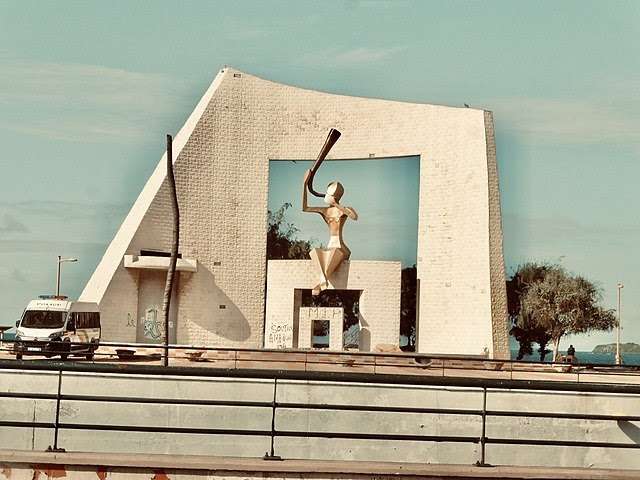 Screengrab from William Greaves' film, First Festival of Negro Arts (1966) Director: William Greaves
Making Movies About America for a Foreign Audience:
Q: These films that were made… Were they documentaries or…?
They were not documentaries in the traditional sense. At that time, the service had already moved in the direction of doing series, so that the PAO in Kenya, for example, could say to Kenya Television, "I have this terrific thirteen part series which would give you a whole season." Several of us came up with this idea of a series of programs called Century III, pegged to the beginning of the third century of the United States, since 1976 was the year of the 200th anniversary of the Declaration of Independence. We had a very interesting time developing the policy approach to doing films about atomic power, education, agriculture, in each one looking at where the United States had been and where it was going, what the new trends were in each field. We made 13 half hour films in the series called "Century III" and launched a series of films called "Reflections." The idea there was to identify Americans of great distinction in their fields, in the autumn years of their lives and to do in-depth documentaries about their work. The centerpiece was each one's own reflections about their lives, and so the series was called "Reflections." Margaret Mead, with whom we did an intensive interview about her life, was the most distinguished woman anthropologist of the century.
We also did a program on Leonard Bernstein and his work. These were hour-long documentary films of a very special nature. They were a lot like the contemporary program called, "Biography," on the Arts and Entertainment Network. They were all Americans; they were all alive; and they could look back on their careers and judge what they had achieved. The Director of the Agency at that time, John Reinhardt, did not give very strong support to television. He was much more interested in the exchanges field. I found myself fighting for budget and fighting to keep things alive. One thing we did that was worth particular mentioning was that for the first time in January 1977, USIA did a special program about the new Administration. Interviews with President Carter, with Zbigniew Brzezinski, Hamilton Jordan, 8 or 10 key people in the White House, all taped at the White House. We set up these interviews in the basement and recorded them, using an American journalist named Edward P. Morgan as the interviewer. Somewhat later, President Carter made his first trip abroad to Brazil, Nigeria, India, and others—to five countries that were not Germany, Japan, Israel, not the places he would automatically be expected to go first. At the White House again, we did messages from President Carter to television audiences in these five countries for airing in advance of his visit. I still have the teleprompter text of what President Carter said to the people of Brazil.
Running Television as a PAO in Brazil:
I could not then foresee that Brazil would soon figure in my personal and professional life. Lyle Copmann, a very fine USIA officer who was PAO in Brazil, died suddenly in early 1978 of a heart attack. For some reason it was very difficult and proved impossible for Director Reinhardt at that time to find the right person to replace him among our colleagues who were Latin America hands. Various people said they couldn't learn Portuguese or they were tired. For whatever reasons the logical people who should have taken the Brazil program all declined one way or the other. Thereupon John Reinhardt decided in the spring of '78 that the next PAO in Brazil was going to be yours truly, and he announced that to me at some time like April or May. I said, "Well, John, I have just been running television now for more than a year. I like it here. My daughter is a junior in high school and it's not the time for us to go abroad again." Director Reinhardt had very strong views about assignments, and he was particularly eager to show that despite the fact that he was the only Agency Director who had been an Agency officer, that he was going to be tougher…so tough on personnel matters that no one could accuse him of being soft on old friends.
Several people whom he wanted to assign to various posts abroad really had very strong reasons for not wanting to go at that time, and at least two outstanding Agency officers resigned from the Agency rather than accept the assignment that was being insisted upon by the Director. I said I would rather not go to Brazil at this time. I didn't know any Portuguese; I only had a little bit of college Spanish. He was very insistent, and in June he said, "I insist that you be our…that you take over the Brazil program." So I did… My family thought seriously at the time about perhaps remaining here in Washington. We had bought a larger house in '73, and when we came back from Bonn in '75, we had fixed it up to the point where we were quite satisfied. We had been living in it for a while and were not ready to go abroad again after just three years here. It was the call of duty, though, and the challenge of a whole new part of the world. Finally, I was very glad that my family decided that they would indeed come with me to Brasília. Our older boy had already gone to college but our daughter spent her last year of high school at a school in Brasília, and our younger boy went through four years of high school in Brasília. It was quite a good school, one-third Americans, one-third Brazilians and one-third of various other nationalities, and it was a good experience.