Harlan Lee first became a foreign service officer in 1968 during the Vietnam War, and he was immediately dispatched to an active hotspot. Knowing he would be sent to Southeast Asia, Lee prepared himself for his first position as vice consul in Udorn, Thailand. Like many foreign service officers on their first assignment, he had no idea what to expect.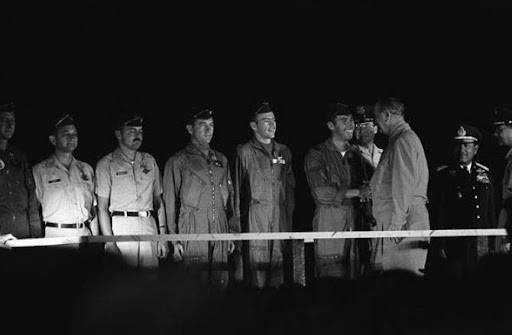 During this time period, the Vietnam War was at its peak with constant battle and struggle all around. Thailand hosted several military aircraft bases, and Lee was sent there to help support those bases and complete numerous missions.
In this "Moment in U.S. Diplomatic History," we see that Harlan Lee's posting to Thailand turned out to be a unique experience. Not only did he have to combat the active rise of communist insurgency, but he also assisted in dealing with every issue that emerged between U.S. and Thai forces. There was no official status of forces agreement between the two countries, so Lee and those who worked alongside him resolved constantly occurring disputes. He did his best to keep the peace with both the military forces and the locals.
Like most foreign service officers, Lee served in different areas throughout the world. He worked in Udorn for two years before a follow-on assignment as a political officer at the U.S. Embassy in Bangkok. There he faced a number of issues surrounding a coup and alarming incidents. When Lee first arrived in Bangkok, Thailand was under martial law; he spent most of his time reporting on the coup and its aftermath. While he followed and reported on the Thai government, Lee also dealt with internal issues—including testifying at an espionage trial, amongst other experiences! These experiences were only the beginning of Harlan Lee's unique career as a foreign service officer.
Harlan Lee's interview was conducted by Jay Anania on November 10, 2020.
Read Harlan Lee's full interview HERE.
For more Moments on the Vietnam War, click HERE.
Drafted by: Ahtziry Ruiz
ADST relies on the generous support of our members and readers like you. Please support our efforts to continue capturing, preserving, and sharing the experiences of America's diplomats.
Excerpts:
"There was no direct attack on the consulate premises, which was in downtown Udorn. But there were several attacks on the military base at the time."
In the Midst of the War:
Q: You mentioned that the security situation was not the best. Can you remember any particular security incidents? Was the consulate ever attacked or were any of the consular personnel injured?
LEE: Yeah. Fortunately, there was no direct attack on the consulate premises, which was in downtown Udorn. But there were several attacks on the military base at the time. Sapper teams came in at night and tried to get across the perimeter fencing, so we worked very closely with the Thai local police and the base security to try to figure out how best to develop good intelligence on the bad guys.
Q: And the people who were conducting these attacks, would these have been Thai insurgents?
LEE: Yeah, mainly Thai insurgents who were trained by the Chinese. China at the time was very much a sponsor of the insurgency in Thailand, and so a lot of Thai insurgents would go to China to be trained and then brought back to be reinfiltrated, I guess.
"At the time…there was no status of forces agreement between the U.S. and Thailand, so that every incident that arose had to be dealt with in person on a face-to-face basis and to be negotiated"
A farmer at work in Kenya's Mount Kenya region (2010) | Neil Palmer (CIAT) | Wikimedia Commons
Keeping the Peace:
Q: What years would those have been, Harlan?
LEE: I was invited to join the Foreign Service in September of 1968…. So, we were there to help the U.S. military figure out how to deal with any incidents that came up between U.S. servicemen and the local authorities. So, the job at the time was to travel through the fifteen provinces to work with the American military installations and to talk to the local civilian and police and military Thai officials in order to report on the communist insurgency. Very much an untypical, unusual assignment for a first tour officer. I replaced a guy who became a friend, his name was Vic Tomseth, and interestingly enough, toward the end of my Foreign Service career, when I was in protocol, I was the one who swore in Vic Tomseth to be ambassador to Laos.
"These two fellows showed up at my office door and identified themselves as U.S. Air Force OSI, Office of Special Investigations . . . . I didn't know what was going on. I thought I had done something wrong."
Special Investigations:
Q: And what did you do in your leisure time back then? Did you have any special interests that took up your time?
LEE: Yeah. Getting back to my assignment in Bangkok, shortly after I arrived the Thai government pulled a coup on itself. They abrogated the constitution, declared martial law. It was the same generals at the top of the heap, but they didn't want to deal with the members of parliament anymore, so they pulled a coup. And so my first six months there I spent reporting on coup developments, which is great fun for any political officers. Another incident which took place at the time, maybe two or three months into my assignment in Bangkok, these two fellows showed up at my office door and identified themselves as U.S. Air Force OSI, Office of Special Investigations. And I didn't know what was going on. I thought I had done something wrong. But they said, No, it's because they were investigating an espionage case and they had arrested a U.S. Air Force master sergeant who was working in the communications office at the U.S. JUSMAG, Joint U.S. Military Advisory Group office in Bangkok, and he was about to pass over some documents to his Soviet counterpart at the time when they arrested him. And they had three documents—he had three documents in his possession written by three of us at the embassy. One was written by George Newman, the DCM; another by Bill Eaton, another political officer; and the third was a memorandum of conversation that I had written when I was in Udorn, and it was marked confidential. So, the three of us were invited to go to the trial of Master Sergeant Raymond de Champlain and the nearest American facility––American location was in Guam. So, the three of us flew to Guam, were put up at Andersen Air Force Base, and individually testified in the trial. I was asked whether I had authority to issue a classified document, which I did. I was asked why was it classified, which I explained, and that's all they needed to know. So, Sergeant de Champlain was convicted of espionage. I heard later that his sentence was reduced because there was a flaw on the procedural side by the air force.
TABLE OF CONTENTS HIGHLIGHTS
Education
Stanford University
University of Hawaii
Joined the Foreign Service 1968
Udorn, Thailand—Vice Consul 1969–1971
Bangkok, Thailand—Political Officer 1971–1973