Passionate about science and research from an early age, Shirley Motaung's thirst for knowledge drove her to overcome language barriers and racial inequalities. In 2006, after years as a lecturer at Tshwane University of Technology (TUT), she was awarded a Fulbright Fellowship to come to the University of California, Davis and study under Dr. Hari Reddi, the distinguished Professor of Bone Morphogenetic Proteins (BMPs), which cause new bone growth.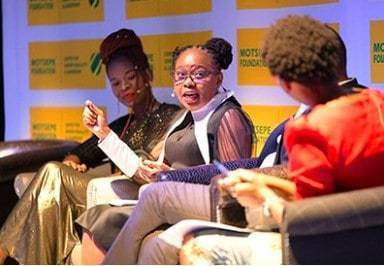 The Fulbright program, a U.S. Department of State-sponsored cultural exchange program launched in 1946, helps graduate students, young professionals, and artists abroad to study and conduct research in the United States. To date, the Fulbright Scholarship Program has partnered with more than 160 countries around the world.
Motaung grew up in South Africa during an historical era in which Afrikaners, the white minority, dominated the majority black population. From 1948 to the 1990s, South Africa's more than half a century of apartheid led to severe oppression and restrictions on the freedom of movement and political, social, and economic rights of non-whites, depriving black Africans of their rights. In 1994, the African National Congress, headed by Nelson Mandela, won the first free and fair national elections (the first in which citizens of all races were allowed to take part, and therefore also the first held with universal suffrage) in South Africa. This officially heralded the end of apartheid.
Although Motaung's parents were uneducated, and Motaung did not speak Afrikaans or English before entering university, her diligence and hard work made her the first black female student to be admitted to Technikon Pretoria (now TUT). She was also the first black apprentice who joined the Lancet Laboratory in Johannesburg, the first black woman to be appointed a lecturer at TUT in 1998, and lastly, the first and only black female researcher in South Africa to receive a doctorate degree specializing in tissue regeneration of articular cartilage.
Originally, Motaung wanted to be a medical doctor, but due to financial hardship and prejudice she pursued teaching and research instead. "Now I am a doctor and I am actually a much better doctor because I am a research doctor." As a lecturer she trained medical doctors on lab procedures, and her research helps people with osteoarthritis. Motaung, the first female Fulbrighter at the TUT in South Africa, made many impossibilities possible, and to this day, according to multiple research sites, she is still actively involved in cartilage research and innovation in the role of medicinal plants in bone and cartilage tissue engineering.
Motaung's interview was conducted by Daniel F. Whitman on February 18, 2010
Read Motaung's full oral history HERE.
Drafted by Katherine Liang
ADST relies on the generous support of our members and readers like you. Please support our efforts to continue capturing, preserving, and sharing the experiences of America's diplomats.
Excerpts:
"I introduced one thing with hospital interns, which they never used to do."
Prof Shirley Motaung driving a point at the 4th International Women's Day Summit (9 March 2020) | TUT
A gift for teaching:
Yes, I wanted to be a medical doctor but based on the finances and knowing my background there was no way that I would be able to do that.
After my internship at Lancet I worked there, got qualified, and graduated. Then I became a senior technologist. Then I joined Government Hospital where I was in charge of the lab at Leratong Hospital in Krugersdorp. Then I worked there for two years. After that, I introduced one thing with hospital interns which they never used to do, which is we had to have a slot from the lab where we can train them in terms of what type of blood sample they must draw for certain tests, what they need, explaining all the lab procedures. After realizing I was kind of doing well in that, that was one of the things that motivated me to apply for a lecturer position in the university.
"If you look at osteoarthritis, it is not only South Africa. It is international."
International problems must be tackled:
Not only people with arthritis can benefit from this. Even sports injuries can benefit because the minute you are playing any kind of sports and you've got a knee injury, it becomes OE, osteoarthritis at the end.
Exactly. So that was one of the things I also mentioned to [the Fulbright Committee] was why this whole thing is necessary. Because I had everything in place, it was not only a South African problem; it was international. If you look at osteoarthritis, it is not only South Africa. It is international. If you look at the burn, wound, skin, it is not only South Africa. It is international. If you look at periodontal diseases for tooth loss, it is not only South Africa. It is international. So each and every thing about my proposal was whatever happened, it was not only South Africa, it was also an international thing.
TABLE OF CONTENTS HIGHLIGHTS
Education
B. Technikon Pretoria (now TUT), South Africa 1987–1991
D. Tech in Tshwane University of Technology, South Africa
Fulbright Scholarship, 2006