In June of 2012, Elizabeth Jones found herself being transferred to the Near East Bureau in the Department of State. It was a whirlwind from the beginning. Her flight back to the United States had an urgent and abrupt landing in London, and upon her return to the States, she learned that the King of Saudi Arabia suddenly passed away. Around the same time, Mohamed Morsi won the 2012 presidential election in Egypt. In July, Jones traveled to Cairo and Alexandria as acting assistant secretary, joining Secretary Clinton.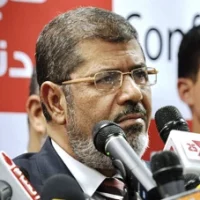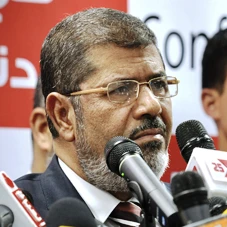 In February of 2011, President Mubarak was forced out of office after being in power for almost thirty years. His regime had been tainted by human rights abuses for quite a while before the mass protests that led to the end of his rule. Prior to 2012, elections under Mubarak's rule followed authoritarian patterns, since he often ran unopposed. This made the 2012 elections the first democratic election in Egypt's history. Mohamed Morsi faced off against Ahmed Shafik and won by a slim margin, capturing 51.7 percent of the vote. However, public distrust of the election was widespread. Many speculated that the U.S. had somehow put Morsi in power because of U.S. assistance in setting up the election and its monitoring. In September 2012, anti-American protests began to pop up after an American-made anti-Islam film surfaced, only making the political situation in the country more difficult. When Morsi came to power, he established a team of experts to help him keep his campaign promises. By the fall, however, there were more protests in Cairo—this time because Morsi was failing to make the changes that the people demanded. Instead of trying to make the change the citizens wanted, he started to move in an anti-democratic direction. He used these protests as an excuse to grab even more power. This raised palpable fears of the potential creation of a new autocrat and led to accusations of tyranny by opposition members of parliament.
Elizabeth Jones closely followed events in Egypt in the aftermath of the 2012 election. In this "Moment in U.S. Diplomatic History," we get only a tiny snapshot of Elizabeth Jones' career. As a career ambassador in the U.S. Foreign Service, she served in a variety of positions over thirty-five years. She served in Kazakhstan, Bonn, Islamabad, Kabul, Cairo, Amman, Baghdad, and Berlin. After serving as the deputy special representative for Afghanistan and Pakistan, she was appointed as acting assistant secretary of state for the Near East. This is the assignment in which she traveled to Egypt with Secretary of State Hillary Clinton.
The third part of Elizabeth Jones' interview was conducted by Robin Matthewman on November 30, 2020.
Read part III of Elizabeth Jones' oral history HERE.
Read parts I and II of Jones' history HERE and HERE
Drafted by Kaitlyn Flynn
ADST relies on the generous support of our members and readers like you. Please support our efforts to continue capturing, preserving, and sharing the experiences of America's diplomats.
Excerpts:
But what I particularly remember is Secretary Clinton coming out of that meeting and saying to the few of us who were in the room, "This is not a good thing that he's the president of Egypt…."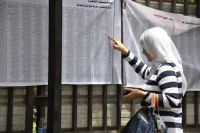 An Election for a New Era:
Q: This had been an election that was held after the Arab Spring forced out Mubarak?
JONES: Well, Mubarak had been forced out the year before. There had been an interim government. That interim government then set up the elections for this government that elected Morsi.
Q: And this was a pretty spirited election?
JONES: It was a very spirited election. There was a liberal opposition that also had tried to participate in the election, but they were very divided among themselves. They could not really figure out a way to combine forces to become a genuinely united party that could have been elected in place of either the military leader or the Muslim Brotherhood leader. And that was an issue that continued in Egypt actually after Morsi was elected. The liberal opposition there, they called themselves the democratic opposition, never could combine forces, even though many of them were very well-educated; they were patriots, they knew the kinds of things that needed to be done in Egypt for improvement of the lives of the people. But they absolutely could not force themselves to compromise sufficiently to agree on how to combine forces.
Q: And what was the concern in Egypt about the Muslim Brotherhood? Because I know that for many, many years, certainly the Egyptian diplomats I've met and many others have always expressed concern about them coming to power through elections.
JONES: Right. So the problems that were articulated about the Muslim brotherhood were: what would they say about women? Would they actually be democratic or would they impose their firm conservative religious beliefs on the population? Would they be democratic? Actually, when they came into office, they were popular. They were elected in a genuine way. They were truly elected over the military because they ran on a platform of how we can support the people? How can we assure that poor people get a living wage? How can we assure that their housing is improved? How can we assure that they have water, that they have access to medical care, all the kinds of things that had been sorely lacking in on the part of the Egyptian government for decades, actually for centuries….
Q: And had the U.S. helped with election set up and election monitoring?
JONES: The U.S. was part of an international election monitoring force, as I recall. Since I was just starting, I don't remember all the details that went into preparations for the election. What sticks in my memory though is the day after the election, when the tally was to be announced. I was in the Sit Room [situation room at the White House] as the second to the seventh floor State Department person in the room to try to understand number one, what had happened in the election, to hear from the intelligence community, from the U.S. Embassy and from the rest of us, what we knew of the results of the election. What we were hearing about the results of the election. And it was at that time that the intelligence community said, "We know from the conversations among the Egyptian leadership that Morsi won the election, that the votes are in his favor. What we don't know is if that's what they're going to announce." And it was while we were in the room having this meeting that the Egyptians did announce that Morsi had won.
Q: The day after. So they handled it correctly.
JONES: Yes. They stayed with the results of the elections.
Q: They told the truth, which isn't always the case.
JONES: They told the truth. And I mean, honestly, we were concerned about it because one of our conversations was if they don't tell the truth, what do we do? But since it came out the way it did, we didn't have to finish that conversation. But what we did discuss is what our posture should be in public. And we agreed that we should appropriately welcome the democratic result. We should applaud the Egyptian people for having exercised their democratic right to vote for whom they wished to vote. And we applauded the government for announcing the results that we understood to be the results of a free and fair election. The reason I emphasize that is that the liberal opposition, the democratic opposition, was extremely upset with the U.S. for having done that. They turned this into "The U.S. supports Morsi. The U.S. supports the Muslim Brotherhood. The U.S. has killed democracy in Egypt by doing this." And we got that firsthand very quickly. Secretary Clinton went to Egypt in early July to Cairo and to Alexandria. I was with her on that trip as the acting assistant secretary. And after the meeting, she was browbeaten, I mean, really criticized in very strong terms for having betrayed democratic principles in Egypt. And almost nothing she could say, or any of the rest of us could say, could make them understand that Morsi won the election fair and square. This was sometimes in meetings with the opposition groups. And we said, "You know, if you all had your act together, you might've had a better chance of winning the election yourselves."
Q: I remember in the press, it was as if the whole Egyptian public believed the U.S. had falsified their elections, right?
JONES: Well, not so much that we falsified the election, but that we did something to put Morsi in office, that we had put our finger on the scale of the election in some way that was never articulated, but was very widely assumed. Secretary Clinton had planned to make a speech in Alexandria. We wanted her to go to Alexandria because we had some indications from the Salafi leadership—which is a different religious group that is even more conservative than the Muslim Brotherhood—but the Salafis had reached out to the embassy. They had reached out to the delegation to say that they would welcome a meeting with Secretary Clinton. They were in Alexandria. So it was one of the reasons we went, but also we wanted her to go to Alexandria, partly because there's a big audience there too. But also, she could see the building that was the consulate general in Alexandria that we hoped to reopen that had been under repair for some time….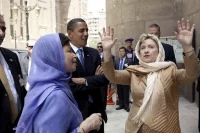 Q: So Morsi, this was right after the election, but before his inauguration, I guess?
JONES: I don't remember what the deal was with an inauguration, but I do recall very clearly her meeting with Mohamed Morsi in Cairo. We were maybe six on our side, in the room. The secretary, of course, sat next to Morsi. They had a—not an unusual meeting. They had a normal meeting in terms of the kinds of issues that she raised. And his responses were probably—I don't remember them clearly enough, but they showed that he was not necessarily closely wedded to what we would call democratic principles. And he exhibited some harsh attitudes about any opposition to him. But what I particularly remember is Secretary Clinton coming out of that meeting and saying to the few of us who were in the room, "This is not a good thing that he's the president of Egypt. This is not going to result in the kinds of change that the Arab Spring demanded and, and that resulted in Mubarak being thrown out." She had an immediate difficult reaction to him, much more than I did. And she was right as it turns out.
Q: Right. He made quite a lot of moves later that were anti-democratic?
JONES: He did. Through the fall and the winter their constitution was to be drafted. It contained many clauses that were anti-democratic. The interesting thing was that the initial group of people that he chose for his cabinet were social and economic progressives. We called it a dream team of Egyptian leaders in the political, social, and economic realm. They worked very hard. They tried very hard to develop and implement the kinds of legislation, regulations, and systems that would have produced the kinds of reforms that the Muslim brotherhood had promised. But it became pretty clear by December, by the end of the year that we were headed for a very, very difficult time, that Morsi was extremely controlling. He did not keep this dream team cabinet for very long. And for the next period of time, it was a constant struggle and a very strong effort to keep advocating to him for the kinds of changes that he himself had campaigned on, that his initial government had put forward, but that just didn't didn't come to fruition.
TABLE OF CONTENTS HIGHLIGHTS
Rejoined the State Department, 2011
Washington, DC—SRAP, Deputy Special Representative for Afghanistan and Pakistan, 2011–2012
Washington, DC—Near Eastern Affairs Bureau, Acting Assistant Secretary, 2012–2013
Washington, DC—Office, Deputy Special Representative for Afghanistan and Pakistan (SRAP), Principal Deputy, 2014
New York, New York—Deputy Permanent Representative to the UN, 2014