Few events illustrate the challenges of American diplomacy like a foreign election. Diplomats walk a fine line between promoting American interests and democratic values and respecting the will of the people. That is hard when there are seemingly no good options. Such was the case in 2006—when Nicaragua elected Daniel Ortega, leader of the Sandinista National Liberation Front (FSLN), came to power.
After leading the rebellion against the despotic rule of the Somoza family, the left-wing Sandinistas rose to power in 1979. While Ortega was fairly popular, he was also heavy-handed and authoritarian. Complicating the situation even further, the Cold War sparked a bloody civil war between the Soviet-backed Sandinista government and the U.S.-backed contra rebels. After negotiating a peace deal with the contras, Ortega lost the following two elections. He lost again in 2001, this time to Enrique Bolaños, a member of the center-right Liberal Party and a fierce Ortega critic. These were humiliating defeats; in two decades, the Sandinistas had tumbled from revolutionary icons to three-time losers.
Even though Ortega had been locked out of the presidency, the Sandinistas were always the second-largest party, and he still wielded considerable influence. By the time left-wing populism swept Latin America in the 2000s—the so-called marea rosa or "pink tide"—Ortega had momentum at his back. He also had the support of the most powerful leftist leader in the region, Venezuelan president Hugo Chávez. Flush with oil money, he did not pass up the opportunity to court a new ally.
The right hardly had a promising alternative. A rift between Bolaños and Arnaldo Alemán, his corrupt predecessor, plagued the Liberal Party to the point that Bolaños left the party and started his own. Alemán filled the leadership vacuum, handpicking José Rizo—Bolaños's ex-vice president—as the Liberal candidate.
This was the political environment Paul Trivelli faced when he began his tenure as ambassador in 2005—a tangled web of covert alliances, backroom deals, and deep distrust. In the following excerpt, Trivelli describes how he navigated this fraught political landscape, all while aiming to avoid a return to authoritarianism in Nicaragua. Trivelli, who entered the Foreign Service in 1978, served throughout Latin America, including Ecuador, Mexico, Honduras, and El Salvador. He was also Civilian Deputy to the Commander at United States Southern Command.
Ambassador Trivelli's interview was conducted by Charles Stuart Kennedy on December 7, 2011.
Read Ambassador Trivelli's full oral history HERE.
For more on the Sandinistas, read about their initial rise to power after the fall of the Somoza dynasty. For more on relations with Nicaragua, read about the American humanitarian response to Hurricane Mitch, which ravaged the country in 1998.
Drafted by Lucas Rudy
ADST relies on the generous support of our members and readers like you. Please support our efforts to continue capturing, preserving, and sharing the experiences of America's diplomats.
Excerpts:
"The politics were almost hopelessly confusing, quite frankly."

A Political Labyrinth:
TRIVELLI: In some ways, when I got there I was pleasantly surprised, because what I saw was a country, a city, that looked much better. . . .
The socioeconomic indicators of peoples' lives had made some modest improvement. People were earning more money, there was less unemployment, better access to health care and so forth. So I felt from that point of view pretty good about the country and pleasantly surprised. . . .
At the same time, there was a very complicated political situation. [Enrique Bolaños] had been elected to the presidency after Arnoldo Alemán, who was widely viewed as extremely corrupt and then Enrique proceeded to charge Alemán with corruption and had been able to jail him.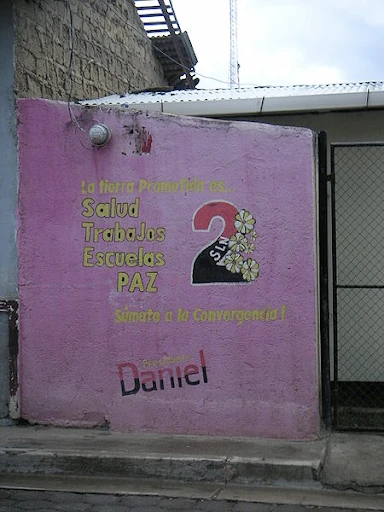 So there was a huge fight going on in the Liberal Party about that, a lot of rancor, a lot of splits in the party. President Bolaños actually created his own offshoot party, named APRE, the Alianza por la Republica, the Alliance for the Republic. So the politics were almost hopelessly confusing, quite frankly.
. . . .
I think that politicians of all stripes in Nicaragua wanted to have a good relationship with the U.S. ambassador, with the possible exception of the Sandinista Party, but the other folks, yes. So certainly the embassy had wide-ranging contacts, both on the right and the left, again, not so much with the Sandinistas. I also did not have any direct contact with Arnoldo Alemán, who we quite frankly considered to be persona non grata, in a political sense . . .
[Alemán] had forged a pact in essence with Daniel Ortega several years prior, cut some deals, including a deal which lowered the percentage of votes it took to win on the first round of presidential elections . . . to 35 percent. That was an extremely convenient number for Daniel Ortega, because if you looked at how many people had voted for the Sandinista Party in past elections and what the polls said, his support was generally in the 35 to 40 per cent range.
Daniel Ortega and the Sandinista Party were already in campaign mode. The non- Sandinista parties, of which there were several, were already looking towards how they were going to nominate their candidates. But I think really there was still a fair amount of polarization in the political system. Also, there was a lot of odd cooperation and backroom dealing . . . . Just a very cloudy political situation.
"I never said, 'Don't vote for Ortega.' I never said, 'Don't vote for José Rizo.' But it certainly was interpreted that way."
Fighting for Influence:
It was becoming very apparent that the Sandinistas were being quietly funded by Chávez in Venezuela. By this time he had founded ALBA [Bolivarian Alliance for America], had done several oil deals and there was a lot of money floating around and it was pretty apparent to us that the Sandinistas were quietly receiving money.
I think he believed that if he could help bolster the Sandinistas that Daniel Ortega would come to power and be a natural ally. His political plan for many years has been to construct a solid anti-American, anti-imperialist bloc and that piece, Nicaragua, was a natural building block. . . . I asked people on the local political scene how much it cost to run a full fledged election campaign in Nicaragua and they told me somewhere in the 12 to 15 million dollar range. So in the grand scheme of things, when you have oil money, 12 to 15 million dollars is not an awful lot of money.
. . . .
Deputy Secretary Bob Zoellick came down and talked with people and made some public appearances and made it very plain that the United States was interested in the preservation of democracy in Nicaragua, that we were opposed to corruption, and that as the Nicaraguans went towards the election period they had an opportunity to keep this new democratic tradition alive.
I spoke a lot in public during that period and sometimes was criticized for it, I was criticized a lot of it, in some quarters, but I think my main thrust was, "Look, Nicaraguans have a great opportunity in this election to embrace new democratic forces," and what that meant was, "Hey, you've got democratic options both on the right and the left and you don't really have to go back to voting for either the Sandinistas or the old Liberal Party, whose presidential candidate was hand picked by Arnoldo Alemán."
I never said, "Don't vote for Ortega." I never said, "Don't vote for José Rizo." But it certainly was interpreted that way.
The other thing that we did and I think very consciously is we spent as much money as we could doing small grants to civic organizations that were democratically minded, the Movement for Nicaragua and others, who were out there doing civic education, helping to train democratic party members, were doing the kind of basic democracy building blocks that we thought needed to get done.
. . . .
And I would ask people, "Look, the last thing I want to do is cause an allergic reaction by being strongly in favor of new political forces. Should I shut up?"
And I was encouraged by them not to go overboard, but to make supportive statements. I think the calculation was most Nicaraguans at least keep an eye on what the United States is thinking and it was important to remind them. The other irony is if you said nothing Nicaraguans take that silence as an endorsement of a Sandinista victory or a Liberal Party victory. So we were really caught in a difficult situation.
. . . .
One thing that we did was a lot of work trying to demonstrate to Nicaraguans the value of a good bilateral relationship, largely through the support that we gave Nicaragua. In fact, not only did we have our traditional aid program, the U.S. military had reestablished good relationships with the Nicaraguan military, so there were both humanitarian projects and more traditional provision of military education and so forth.
I made a great point of using the positive things that the United States has done to public advantage at all the ribbon cuttings, making sure we had articles about these activities in the newspaper. . . . So we did what we could and pushed the U.S. agenda, but more broadly the value of the bilateral relationship.
"Ortega's someone who is reflexively anti-American . . . the relationship would not be smooth."
Election Day:
TRIVELLI: Daniel Ortega won about 38 percent of the vote, which was actually somewhat less than he had in past elections, but because of the split of the non-Sandinista vote, he was able to win in the first round.
The electoral observers proclaimed it free and fair. All I can say is that the electoral council stopped actually reporting the votes formally at 91 percent of votes counted—there was never actually an official 100 percent count of all the votes in that election. So who knows exactly what happened?
But be that as it may, Daniel Ortega became president . . . I think we calculated and I think rightly so that that would not be a comfortable outcome for the United States and for the bilateral relationship. Ortega's someone who is reflexively anti-American and so the relationship would not be smooth. . . .
The decision was made that the U.S. government would try to establish a reasonable relationship with the Sandinista government. And our theme was—I think that our theme right at the beginning, including statements that the secretary of state made, was—"We are willing to work with any government that's democratically elected and continues to govern democratically."
"He gave a very short speech and then said, 'My people await' and he went tearing off with Chávez."
An Ominous Transition:
Chávez of course did come to the inauguration. In fact, we all waited for a couple hours because he showed up late.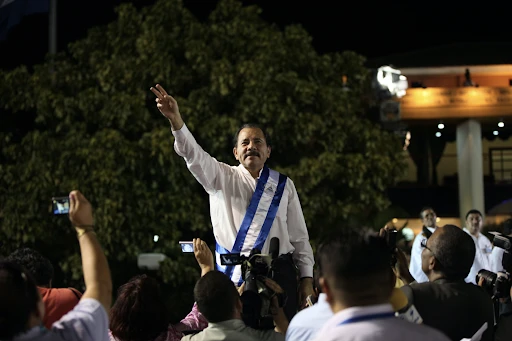 We were waiting outside and it was just incredibly hot, because Managua is pretty much always hot and the foreign minister-designate motioned for some of the heads of delegation and some of the delegations to come to an air conditioned lounge area, we were kind of crammed in, but at least it was air conditioned, because it was obvious that Chávez was going to be late.
And all of a sudden Chávez showed up with this entourage of uniformed guys with red berets, they all barged into the room, which was already overcrowded and were making their way around the room.
And I'm talking about a room which had the president of Colombia, the president of Peru, the crown prince of Spain—very, very important people—and this mass of Chavistas pushes its way into the room.
And then the foreign minister-designate goes around with Chávez, introducing him to everybody. He gets to me and Mike Leavitt, the secretary of health and human services, and he says, "Well, Mr. President Chávez, I want to introduce you to Secretary Leavitt. I want to introduce you to Ambassador of the United States Trivelli."
Chávez looks at me and he says, "Ah, Ambassador Trivelli. Give my regards to Ambassador Dudley." Dudley was our ambassador to Caracas, who was not on speaking terms with Chávez.
And then, when he realized who Leavitt was, he said, "Hey, do you have any idea what the infant mortality rate is in Cuba?" and he comes up with a number. "And what it is in the United States?"
And then he said, "Yeah, in Venezuela we're trying to get that number down." He then launched into this non sequitur conversation about infant mortality rates in Latin America. So you just never know. Finally, Ortega was inaugurated, in the broiling sun. He gave a very short speech and then said, "My people await," and he went tearing off with Chávez and a few other like- minded delegates to another plaza in the city where the Sandinista Party faithful were waiting.
TABLE OF CONTENTS HIGHLIGHTS
Education
Williams College, 1970–74
University of Denver Josef Korbel School, 1974–76
Joined the Foreign Service 1978
Mexico City, Mexico—Visa Officer 1978–1980
Tegucigalpa, Honduras—Deputy Chief of Mission 1998–2002
Washington, DC—Director, Central American Affairs, Western Hemisphere Bureau 2002–2005
Managua, Nicaragua—Ambassador to Nicaragua 2005–2008