It was the end of a long, hard road. Although the Vietnam War had finally officially concluded, the Fall of Saigon had triggered a refugee crisis for which neither the United States nor Vietnam's neighbors were prepared. This time period ushered in the launch of numerous operations designed to get at-risk Vietnamese civilians and American citizens away from the coming Viet Cong.
These operations even stretched to the USAID Mission in Manila. Kenneth Smith, a general development officer at the Mission (and then a lieutenant colonel in the U.S. Air Force) was soon assigned to prepare Clark Air Base for the coming refugees in the Philippines and acted as the U.S. Embassy's liaison between the Air Force and Philippine government. Smith, whose career included many unusual events, witnessed firsthand a story even he considered to be unbelievable. This "Moment in U.S. Diplomatic History" tells that story.
Kenneth Smith, who was born in Plymouth, Devonshire, England on December 16, 1932, also held positions in South Korea, Indonesia, and Washington, D.C. He achieved the rank of colonel in the U.S. Air Force and obtained degrees from the University of Connecticut, MIT, and the Maxwell School at Syracuse University.
Kenneth Smith's interview was conducted by David Reuther on December 7, 2020
Read Kenneth Smith's full oral history HERE.
Drafted by Carl Svahn
ADST relies on the generous support of our members and readers like you. Please support our efforts to continue capturing, preserving, and sharing the experiences of America's diplomats.
Excerpts:
"At the end of March . . . somebody tracked me down where we were working and said, 'You have an urgent message from Manila. You need to report back right away.'"
A Coming Storm:
At the end of March '75—I was actually in Mindanao on a field trip with a couple of my Masagana team—when somebody tracked me down where we were working and said, "You have an urgent message from Manila. You need to report back right away." No-one could tell me what it was about. I thought maybe something had happened to my family. I got the next flight out from Cagayan de Oro.
When I got back to Manila, Tom Niblock advised me that Clark was preparing a contingency plan to evacuate refugees from Vietnam, and wanted me to participate.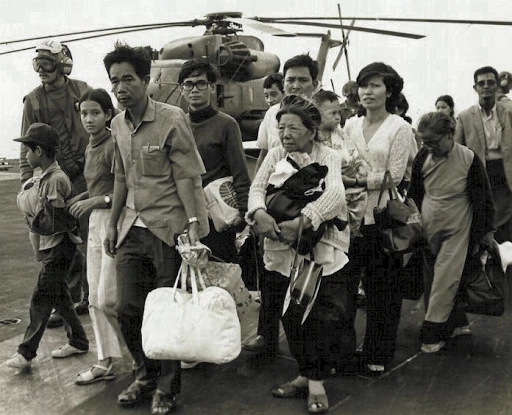 [By now, I was a lieutenant colonel.] With farewells to Masagana & USAID, to Clark—I left for another month; full-time. When I reported for duty at Clark, planning was well underway with the 13th Air Force and the Air Base Group. The task force assigned me to liaise with a Filipino Lieutenant Colonel—Nick Olegario. [President Marcos had assigned Nick to keep him informed of our activities. [Formerly Fort Stotsenburg, Clark was a U.S. Air Base, but subject to contentious—unresolved—usage limitations and restrictions by the Philippine government under a 1947 Military Bases Agreement (MBA).] Nick and I met frequently and informally to discuss the situation from our respective perspectives, and exchange information on a low-key personal level and I found him to be an ally as well as a sympathetic ear; and equally interested in getting things accomplished.
I didn't have any other specific responsibilities or duties, but was given a 'roving commission' to check preparations on the base for the influx, and troubleshoot situations after they arrived; pitching in wherever there was the need, and generally keeping the task force informed of any major issues.
"President Ford OK'd 'Operation Babylift' to bring hundreds of Vietnamese orphans from Saigon to the United States via the Philippines."
Getting Out of Vietnam:
The evacuation flights started on April 4th (April 3rd in the U.S.), and continued for the rest of the month; with numerous round-the-clock shuttle flights between Clark and Saigon. President Ford OK'd Operation Babylift to bring hundreds of Vietnamese orphans from Saigon to the United States via the Philippines. That was the first phase of a longer and broader evacuation plan to retrieve thousands of American officials—as well as other civilians and their families—from Vietnam, and repatriate them in the U.S. We initially planned for several flights of huge C-5A Galaxy cargo aircraft, but the first plane crashed shortly after takeoff from Tan Son Nhut—killing many aboard—and the 5A fleet was grounded.
We resumed flying with smaller planes—C-141s by day and C-130s by night. Through 19 April, we were launching up to 40 military flights a day to Saigon. In addition, a variety of civilian aircraft from various sources—notably World Airways—also participated; contributing their passengers to us. Also, when an American businessman—Robert Macauley—learned it would take more than a week to evacuate the surviving orphans, he chartered a Boeing 747 from Pan American World Airways and arranged for 300 to be flown to the U.S.
After the initial surge, the operation was rechristened "New Life" and our focus shifted to retrieving Americans and their—mostly Vietnamese—dependents. Other adult refugees (mostly Vietnamese, but also a smattering of other nationalities) also joined the exodus with—and without—families. Towards the end of April, while C-130s continued evacuations, the FAA imposed a ban on all civilian flights into and out of Saigon. North Vietnamese aircraft bombed the airport on April 28, and a final surge—Operation "Frequent Wind"—was undertaken to evacuate as many U.S. citizens and "at-risk" Vietnamese personnel—including Foreign Service Nationals (FSNs)—as possible; but evacuations from "my runway" at Tan Son Nhut ended early April 29. [This was the runway that had first involved me with USAID and Vietnam twelve years earlier.]
"President Marcos had expected normal 'transit processing' to take only a day or so for a rest stop before moving evacuees on to the U.S. But he viewed the Tent City as a blatant violation of Philippine sovereignty."

Recovery and Reconciliation: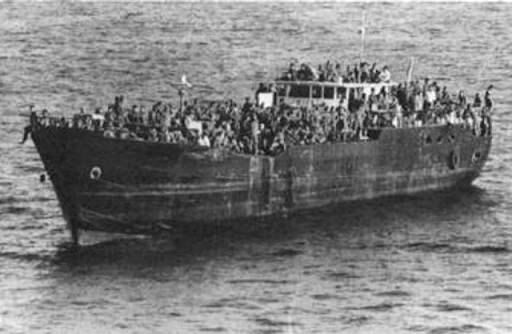 Initially I pitched in, "meeting and greeting" flights, arranging for "tallying and triaging" passengers, working with air police and base motor pool personnel to shuttle them to their accommodation. For a while, Mike Benge worked side-by-side with me and was particularly effective because of his fluency in Vietnamese. I also had several momentary ramp-side reunions and surges of relief as well as a sense of great satisfaction whenever I encountered incoming former USAID/Saigon colleagues —both American and Vietnamese
FSNs —some whom I spotted as they were deplaning, and others who recognized me first—despite my uniform. As their numbers continued to grow, my Philippine counterpart Nick told me of increasing Philippine Government concerns. In essence, 'President Marcos had expected normal 'transit processing' to take only a day or so for a rest stop before moving evacuees on to the U.S. But he viewed the Tent City as a blatant violation of Philippine sovereignty. He appreciated it was an emergency but it wasn't authorized and he was going to abrogate the Bases Agreement if people stayed over thirty days. I reported this indirect edict from President Marcos to the Task Force, and told them to inform the embassy 'stat.' 
But the Embassy's response was disheartening. They informed us at Clark we could not send 'asylum seekers' to the U.S. until their identity and case history and reason for wanting asylum had been verified. Only then would they be "Refugees." Several consular officers came up to Clark to make 'eligibility determinations' for temporary asylum as "Parolees."
TABLE OF CONTENTS HIGHLIGHTS
Education
Royal Air Force, Senior Aircraftman 1950–1953
MA in Government & International Relations, University of Connecticut 1960–1961
Joined the Foreign Service 1971
Manilla, Philippines—General Development Officer 1971–1976
Seoul, South Korea—General Development Officer 1976–1978
Jakarta, Indonesia—General Development Officer 1978–1979
Washington, DC—General Development Officer 1979–1983