Many nations felt the disastrous repercussions that followed the 9/11 terrorist attack, and this was the unfortunate case for Spain on March 11, 2004. The response to terrorism differed greatly throughout the world, but one underlying similarity was fear. People in Spain certainly felt it when four commuter trains were bombed by an egregious terrorist group supposedly linked to al-Qaeda.
The 2004 Madrid Train Bombings, also known as 11M because of the date of occurrence, resulted in the death of 193 people (nationals of eighteen different countries) and injury of nearly two thousand.. Ten total explosions occurred on four trains; mobile devices were used to detonate the bombs. The role of the Spanish government in the war in Iraq merely a year earlier was presumably the cause of this targeted attack. The Euskadi Ta Askatasuna (the Basque separatist organization that is better known by its acronym, ETA) were the initial suspects of the bombings, and this speculation was circulated by the Spanish media. Although they were considered an active terrorist group in this region, the tactics used during the assault differed from prior ETA attacks in that they appeared more coordinated and strategically placed. Moreover, the ETA itself also denied involvement—an atypical move for a group that normally would claim responsibility for its actions. On March 14, 2004 Abu Dujana al-Afghani, a supposed spokesperson for al-Qaeda, circulated a video which proclaimed his responsibility for the bombings. Further investigations revealed that a group of at least twenty-seven terrorists affiliated with al-Qaeda were involved with the bombings. This terrorist attack was one of the deadliest on European soil and left a palpable sense of sorrow amongst the citizens of Spain. Today, there is a memorial forest in the El Retiro Park—a place for tranquil reflection.
During this time, Nicholas Kuchova, a U.S. commercial officer, was on his second tour in Madrid, Spain. He provided ADST a remarkable account of his time there and how the terrorist attack affected his work. He was interviewed by Mark Tauber in 2020—read an excerpt below!
Kuchova's interview was conducted by Mark Tauber on September 24, 2020
Read Nicholas Kuchova's full oral history HERE
Drafted By Sarai Simpson
ADST relies on the generous support of our members and readers like you. Please support our efforts to continue capturing, preserving, and sharing the experiences of America's diplomats. 
"If you're on a train or a bus, get off at the next stop."
The Morning of the Bombings:
Q: Now take a moment to describe that situation. I think a lot of people forget that tragedy in Spain, because so many people refocused on Afghanistan and other places.
KUCHOVA: Yeah, Spain was very active in terms of the coalition. And then with the change in government it went the other way. But from a personal point of view, I tended to go to the office very early, and we had two wonderful security guards at our office. In terms of football/soccer, one was a Madrid fan and one was a Barcelona fan, so that if there was ever a game, under their uniforms they had their team's jersey. The three of us had coffee every single morning. And that fateful morning, because the bombings were early in the morning with the trains coming in early, on their radios we got the first indication that something happened.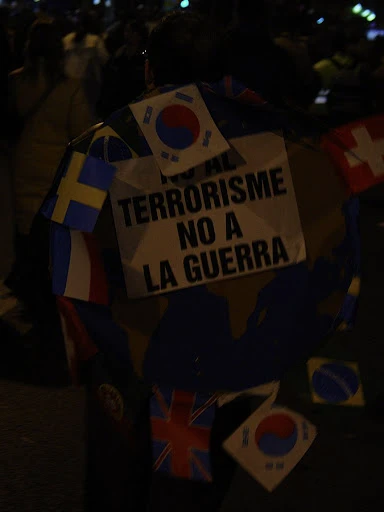 They were getting things over their security company's radio. And so, the first we heard of it was that a bomb went off at Atocha train station in Madrid. We knew which of our employees were commuting in, and a lot of them came by train, so we touched base with Post 1, told them what we were doing, and they were also getting information. 
Then we turned around and we telephoned anybody that we thought was commuting. The message was really easy, "If you're on a train or a bus, get off at the next stop. Then call." The startled replies were, "Well, why get off? I gotta move." We got a couple people off of buses. Coincidentally there was an American guy married to a Spanish woman. He was retired from the air force and his Spanish wife had followed him all over the world for his air force career. When they retired, she said, "I want to go home." So, they went to Spain. He was actually working in our post office, and he used to ride the one train that got hit that morning. Their high-school-aged son was late, because he used to drop his kid off and then go park and then go in on the train. The son was late, so he had to drive his son to school. He's cursing the whole way, "You lazy; you got to get up; you got to do this, you got to do that." So, he misses the train. Now he can't say whether he would have been in the car or whatever, but he would have been—that was his train coming in, I forget which community it was, but that would have been his train. So, he drives to work and he arrives and he's having his coffee, because coffee's very important in Spain, and all of a sudden this happens. Man, it hit him like a ton of bricks. We were very lucky; we did not lose anybody. But it was pretty significant.
"Spain turned on a dime, and where we were the good guys, we became the bad guys."
Aversion to the Embassy:
Of course, politically, Spain turned on a dime, and where we were the good guys, we became the bad guys. Our landlord wanted us out; they wanted to break the lease. People that had rented houses to the embassy—they didn't want to rent houses to the embassy. They didn't want to be a target. Because if you go back in the beginning stages with Al-Qaeda, part of their statement was to reclaim the lands of Islam, and well that includes Andalusia. The Spaniards were really shaken by this. Their response to this catastrophic hit was basically to capitulate. They went the other way. It was quite something.
It changed our relationships with the military. It changed our relationships with a lot of the mid-size businesses; not the larger businesses because they look further down the line. But it was profound. It was really profound.
Our section, we then were in kind of an emergency hunker-down perspective. All the officers had gotten rid of the CD [Diplomatic Corps] plates, and went for plates that were civilian looking. Some people had to change their housing. We lost our offices. I spent weeks and weeks hunting around for an office. Ended up going with office space in a really large international bank because they're used to being disliked. Who doesn't hate a banker? So, we moved there—we had to move—and it was just a mess. It was quite disruptive, and it changed the commercial environment quite a bit.

"We also have a huge NASA presence in Spain."
The Business Perspective:
KUCHOVA: It had a profound [impact] I think on every section because there was a lot of paranoia. Remember a couple of the planning meetings for September 11 occurred in Spain. You know . . . .
Q: Wow, I'd forgotten!
KUCHOVA: Yeah. Then Spain got defensive in one way and in the other way paranoid because with the EU is the movement of people.
You knew that sometimes the authorities didn't really know who was there, and that was a problem. I'm sure for a couple of offices and agencies this was driving them crazy. Who's in town? Who's in Spain? Yeah, it was tough. I think from a business perspective, we recovered. I think smaller U.S. companies probably were impacted more because there were smaller transactions, shorter term relationships, but the bigger companies . . . . Then a lot of the really big ones that had offices there, like IBM had a huge office there, a lot of research, big investment. McKenzie's got an office. I mean all the really big guys had a lot of research there. We also have a huge NASA presence in Spain.
Q: I did not know that.
KUCHOVA: Yeah, which is fascinating. Outside of Madrid there's a huge complex with huge antennas—like the kind you would use for radio astronomy. It's one of the control centers for manned space flights where they actually hand over control, when the spacecraft is orbiting. I think that facility is also active for deep space unmanned missions as well. That was incredible. We had a NASA rep there. He was so bright it was frightening. So those relationships didn't get hit. It was more the superficial relationships that got hit. Relationships that were deeper took a hit, but they weren't heavily damaged. But it was quite an event.
TABLE OF CONTENTS HIGHLIGHTS:
Education:
Joined the Foreign Service 1997
Istanbul, Turkey—Commercial Officer 1997–2002
Madrid, Spain—Commercial Officer 2002–2006
Stockholm, Sweden—Commercial Officer 2013–2017