Back to Diplomats and Diplomacy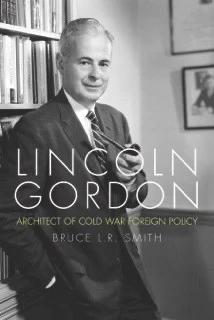 Lincoln Gordon:  Architect of Cold War Foreign Policy
––University Press of Kentucky, 2015
After World War II, American statesman and scholar Lincoln Gordon emerged as a key player in the reconstruction of Europe. He was one of the supporting cast of less well-known wise men and women whose work made possible the accomplishments of the more renowned "Wise Men" of the twentieth century. During his long career, Gordon worked as an aide to National Security Adviser Averell Harriman in President Truman's administration; for President John F. Kennedy as an author of the Alliance for Progress and an adviser on Latin American policy; and for President Lyndon B. Johnson as assistant secretary of state. Gordon also served as the United States ambassador to Brazil under both Kennedy and Johnson. Outside the political sphere, he devoted his considerable talents to academia as a professor at Harvard University, as a scholar at the Brookings Institution, and as president of Johns Hopkins University.
In this impressive biography, Bruce L. R. Smith examines Gordon's substantial contributions to U.S. mobilization during the Second World War, Europe's postwar economic recovery, the security framework for the North Atlantic Treaty Organization (NATO), and U.S. policy in Latin America. He also highlights the vital efforts of the advisers who helped Gordon plan NATO's force expansion and implement America's dominant foreign policy favoring free trade, free markets, and free political institutions. Smith's approach highlights the mysterious alchemy of leadership and the blend of political and technical expertise at the heart of policymaking. 
"An impressive book––well-written, often poignant, with special insights from the author's own connections with his subject. Smith has produced a model of how a biography can cast light on a transitional age, when the United States emerged from isolationism into a new world of affluence and vulnerability."             ––Lawrence S. Kaplan, author of The Conversion of Senator Vandenberg
BRUCE L. R. SMITH, a retired Brookings Scholar and Columbia University professor of political science, is currently affiliated with the School of Public Policy at George Mason University. He is the author or editor of numerous books, including American Science Policy since World War II, The RAND Corporation, and The Advisers: Scientists in the Policy Process.