Back to Diplomats and Diplomacy
Memoirs of a Foreign Service Arabist
Available in January 2014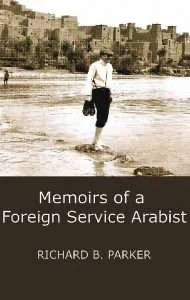 "Among Parker's fascinating insights into history are his comments on what lay behind the deteriorating U.S.-Egyptian relations before the 1967 Egyptian-Israeli war. His vivid account of a special mission to Yemen sheds light on how Yemeni issues complicated U.S. relations with Egypt and Saudi Arabia. His many insights and 'pen-portraits' contribute to history and keep the book moving along."
                               ––RONALD E. NEUMANN, President, American Academy of Diplomacy
Dick Parker was renowned in the State Department for his dry acerbic wit. From his early youth on U.S. Cavalry posts across the Southwest to his World War II experiences, through a successful Foreign Service career as a leading Arabist in the Near East, he observed and commented on everything.
In this autobiography he recounts his experiences as a lieutenant in the U.S. Army in Europe, acting with inadequate information, outmoded weaponry, and half-trained personnel (including himself), and describes the confusion in the Battle of the Bulge, fighting the enemy with no clear guidance from superiors or any indication that the Germans were closing in. Then came harrowing months as a German prisoner of war, exhaustion, sickness, and forced POW marches from Germany to Poland, meeting Russians coming the other way. Postwar, he completed his education and began life as a career diplomat.
Parker comments, often with wry humor, on the people and times around him, the thorny Middle East issues he dealt with, and the foreign and domestic potentates with whom he dealt. He recounts problems faced by Foreign Service families in difficult, often dangerous conditions while coping with a sometimes-impersonal bureaucracy at home. He writes of hands-on diplomacy during critical periods in U.S. relations during his service in Israel, Jordan, and Egypt and, as ambassador, in Algeria, Lebanon, and Morocco.
The late Richard Bordeaux Parker (1923–2011), a thirty-one-year veteran of the Foreign Service, spoke fluent Arabic and climaxed his career in the 1970s as U.S. ambassador to Algeria, Lebanon, and Morocco. Retiring in 1980, he continued to share his deep expertise in Arab culture––as a diplomat-in-residence at the University of Virginia, as editor of the Middle East Journal, and as author of seven books on the region, among them North Africa: Regional Tensions and Strategic Concerns, 1987; The Politics of Miscalculation in the Middle East, 1993; The Six-Day War: A Retrospective, 1996; The October War, 2001; and Uncle Sam in Barbary: A Diplomatic History, 2004.