Back to Diplomats and Diplomacy
Pot Shards: Fragments of a Life Lived in CIA, the White House, and the Two Koreas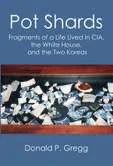 Don Gregg spent thirty-one years as an operations officer in CIA and ten years in the White House under Jimmy Carter, Ronald Reagan, and George H. W. Bush. Pot Shards is his memoir. It tells of a philosophy graduate in 1951 who immediately joined the CIA when told, "You'll jump out of airplanes and save the world!" His book is a window into the Cold War–era CIA, both its failings and unheralded successes, including Gregg's role in saving the life of Kim Dae-jung, a Korean political dissident who later, as president, won the Nobel Peace Prize.
Gregg colorfully describes his tours in Japan, Burma, Vietnam, and South Korea. His experiences in Vietnam illustrate the difficulties of speaking truth to power, including sharp-edged encounters with Robert McNamara and Curtis LeMay, among others. Gregg admired Vice President Bush's value as "the rudder on Reagan's sailboat," unseen but indispensable. He recounts his travels with Bush to sixty-five countries with both humor and discernment ––Thatcher at the top, Mugabe at the bottom. While at the White House, Gregg taught a graduate-level course at Georgetown University titled "Force and Diplomacy." He now teaches a course on CIA at Williams College and urges his students to "think like intelligence officers," no matter what career they pursue.
Once feared and disliked by the North Koreans, Gregg made his sixth trip to Pyongyang in February 2014, stressing dialogue over demonization.
"A personal witness to decades of largely hidden intelligence and diplomatic history, Donald Gregg recounts his unlikely and amazing career as a CIA officer, national security advisor, and US diplomat. His adventures and insider knowledge of US relations with East Asian nations over many decades make for a lively narrative, entertaining for the general reader and useful for serious scholars alike. Through it all, Ambassador Gregg expresses a natural warmth and concern for humanity. " 
 –– NICHOLAS DUJMOVIC, PhD, Staff Historian, CIA Center for the Study of Intelligence
DONALD PHINNEY GREGG served in the Army 1945–47, graduated, cum laude, from Williams College 1951, and joined the CIA as a paramilitary officer. Following his service in Korea as chief of station, he was seconded to the NSC staff at the White House in 1979. He then served as national security adviser to Vice President Bush until going to Korea as ambassador in 1989. Gregg later ran the nonprofit Korea Society in New York (1993–2009) and now chairs the Pacific Century Institute in Los Angeles. He lives in Armonk, New York, with his wife of sixty years, Meg Curry Gregg.
"Don Gregg . . . spent most of his life serving his country: in the CIA, at the White House and as a US ambassador. He has stories to tell, many of them gripping, and they are beautifully and movingly recollected here in this memoir of a splendid life. "  
–– CHRISTOPHER BUCKLEY