Back to Diplomats and Diplomacy
The Architecture of Diplomacy: Building America's Embassies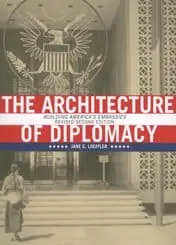 "What do we, as a nation, mean to say to the world? Jane C. Loeffler shrewdly looks for answers in a crucial yet neglected place: the architecture of America's embassies. From the petty jealousies on Capitol Hill to the fine points of modernist design, Loeffler's effortlessly erudite and highly readable account explains how our government has tried––with mixed success––to represent us abroad in steel and stone."   –– HOWARD FINEMAN, chief political correspondent, Newsweek, and ABC News analyst
Jane C. Loeffler, a scholar in architectural history and American civilization, extensively researched the history and politics of U.S. embassy design and building, focusing on the years following World War II. These high-profile, often controversial structures––projections abroad of American art, culture, and political philosophy––have formed the settings for the conduct of U.S. diplomacy in the latter half of the twentieth century. In this generously illustrated account of the State Department and the Congress, of architects and changing times, Dr. Loeffler dissects the interplay of domestic politics, international affairs, and an array of functional and symbolic requirements. Her book adds greatly to our understanding of both architecture and diplomacy.
Loeffler explores the often innovative architectural design of America's embassies, the policy and political ramifications of their construction, and the surrounding partisan battles during a remarkable chapter in architectural history. Ranging from the start of the U.S. embassy building program through the 1996 Berlin embassy competition, the book highlights the 1950s ––when modernism became linked with the idea of freedom and was showcased in embassy design. It also addresses the post–Vietnam era's paramount concern with security.
JANE C. LOEFFLER graduated from Wellesley and the Harvard Graduate School of Design and earned her Ph.D. in American civilization from the George Washington University. Her work on this book received support from Wellesley, GWU, and the Graham Foundation for Advanced Studies in the Fine Arts.