Back to Diplomats and Diplomacy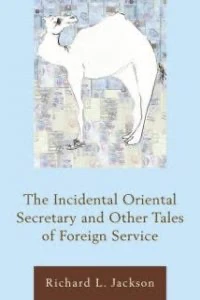 Dick Jackson captures the humor and sheer incongruity of working across cultures in an international career spanning diplomacy and education. Written in a lighthearted tone, his memoir also delves into tragic consequences in countries such as Somalia, Libya, and Greece. The author uses wit and anecdote to chronicle the monumental changes in the world environment and the practice of diplomacy. And the whimsical sketches of illustrator ELIZA JACKSON enhance the reader's enjoyment.
In his foreword, Ambassador FRANK G. WISNER describes the book as "rich in detail, superbly written, and often gloriously funny," noting, "Those of us who have devoted our lives to this nation's Foreign Service will find experiences and insights that match our own. But few of us are lucky enough to match Dick's power of storytelling . . . [or to] elucidate as agreeably as he does the many truths about the way diplomats live and work, the joys of the profession, and the contributions they make to this nation's security and well-being."
Jackson writes: "I think of this account as an 'anti-memoir,' suppressing the trivia of my own career and focusing instead on the breathtaking transformation of diplomacy, in the short span of one career, from the rollicking, mostly lighthearted endeavor on which I embarked into a kind of security-driven defensive crouch. When I revisit old haunts, like the American Embassy in Athens or the maximum security prison that is now our Consulate General in Istanbul, I am drawn irresistibly back to days when diplomats used shoe leather to meet contacts over green tea in the medina or, yes, even on the golf course."
            "Not since Gerald Durell wrote My Family and Other Animals has the memoir, the Foreign Service, and Greece found such an erudite and humorous scribe." ––KAREN RHOADS VAN DYCK, Professor of Hellenic Studies
            "A highly engrossing and insightful perspective on US diplomacy and Foreign Service life, told in engaging vignettes, with uncommon wit and humor." ––TIMBERLAKE FOSTER, U.S. Ambassador (Ret.)
            "It felt at times as if Dick Jackson were channeling Evelyn Waugh in his  sketches of the characters he encountered." ––MARC WALL, U.S. Ambassador (Ret.)
RICHARD L. JACKSON was a U.S. Foreign Service officer for three decades, with postings in Somalia, Libya, Washington, Greece, the United Nations, and Morocco. He then served eleven years as president of Anatolia College in Thessaloniki, Greece, later becoming an international consultant on higher education and a freelance writer.