Back to Diplomats and Diplomacy
The State Department Boys: Philippine Diplomacy and Its American Heritage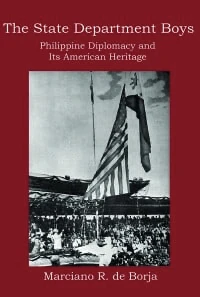 Here is the untold story of how, in the wake of independence in July 1946, the U.S. Department of State and selected U.S. Foreign Service posts trained the first officer corps of the Philippine Foreign Service, affectionately dubbed the "State Department Boys." These pioneer Filipino diplomats eventually played pivotal roles in  Philippine diplomacy and helped the fledgling Philippine Republic find its place in the community of nations.
Marciano de Borja's thoroughly researched study examines U.S. efforts to ensure the smooth transition of the Philippines from a colony to an independent state. By helping to set up the Department of Foreign Affairs and its Foreign Service and developing a core of professional diplomats, the United States ensured that the Philippines could hold its own in the international arena. The State Department Boys vividly recounts the American diplomatic and consular practices that permeated and shaped the Philippine Foreign Service during its formative years and the little-known but pivotal roles the State Department Boys played, especially in the expansion of the Philippine Foreign Service during the Cold War. 
"Marciano de Borja's new book fills a void in Philippine diplomatic history. This is the first in-depth study of the Filipinos who were trained as professional diplomats in the early years of the Philippine Republic. Almost all became pillars of the Philippines' Department of Foreign Affairs and had sterling careers in building the institution and crafting Philippine foreign policy. De Borja has now given these men and their efforts due recognition."
––Ricardo T. Jose, Professor of History, University of the Philippines ­­
Marciano R. de Borja is a career diplomat with the rank of Chief of Mission II in the Philippine Foreign Service, currently Consul General in Guam. He most recently served as Senior Special Assistant in the Office of the Undersecretary for Special and Ocean Concerns at the Department of Foreign Affairs in Manila and as Minister at the Philippine Mission to the United Nations in New York. Previous posts included the Philippine embassies in Japan, Chile, and Spain and as director for the United States Division in the Department of Foreign Affairs. He holds degrees from the University of the Philippines and the University of Navarra (Spain) and studied international politics at the University of Tokyo. He is the author of FSO IV: Starting a Career in the Philippine Foreign Service (1999) and Basques in the Philippines (2005).