Back to Memoirs and Occasional Papers
Arabian Nights and Daze:  Living in Yemen with the Foreign Service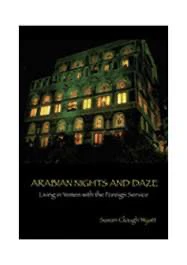 "Susan Wyatt has given us a fascinating glimpse of a breathtakingly exotic country from a now bygone era. She has also described … a life far different from the glamorous one that most Americans think their diplomats lead."
David G. Newton, U.S. ambassador to Yemen, 1994-97
Arabian Nights and Daze: Living in Yemen with the Foreign Service provides a timely and needed understanding and appreciation for this vulnerable country, its history and culture, and the enormous challenges it faces today.
Journey back to 1970 and enjoy the "never in a lifetime" adventure of the author and her Foreign Service officer husband as they reopened the U.S. diplomatic mission to Yemen after its closure by the 1967 Arab-Israeli War. David McClintock, who served as principal officer and his wife, Susan, as the mission's secretary, arrived only eight years after the Republican Revolution ousted a thousand-year-old dynasty of Shiite (Zaydi) Muslim imams.
The author describes, with both humor and respect, the country's struggles in the early throes of becoming a modern, viable state in this remote corner of Arabia. The Yemeni people in the 1970s were friendly, respectful, and hospitable; they were not terrorists, as many claimed after the 2000 USS Cole attack in Aden's harbor. Today, they are still a friendly, resilient, and proud people who are unwitting pawns in an international game of politics.
Arabian Nights and Daze concludes with two chapters that discuss major challenges facing the present Yemen government as it tries to cope with international terrorism inside its borders, the global economic crisis, a major Shiite rebellion in the north near the Saudi border, and a strong secessionist movement in the south. A chronology of Yemen's long history, a glossary of terms, and a comprehensive bibliography provide the reader additional resources for developing a better understanding and more positive regard for a little-known country maligned by negative media.
Susan Wyatt was previously a career counselor in several locations including the U.S. State Department's Family Liaison Office. She and her present husband Richard Williams divide their time between Albuquerque, NM, and Eugene, OR. She is the author of Thirty Acres More or Less: Restoring a Farm in Virginia, published in 2003.