Back to Memoirs and Occasional Papers
Arias, Cabalettas, and Foreign Affairs: A Public Diplomat's Quasi-Musical Memoir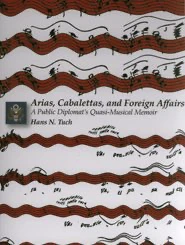 A lifelong lover of opera and classical music, Hans N. "Tom" Tuch served 35 years in the United States Foreign Service, retiring in 1985 as a Career Minister. This book recalls his devoted engagement with music, especially opera, in the context of that career. His love of opera began in 1938 in Berlin, where he witnessed Herbert von Karajan's first appearance as conductor at the Berlin Staatsoper. Tuch's Foreign Service career took him to posts with opera houses–Wiesbaden, Frankfurt, Berlin, Munich, Moscow, Sofia, Cologne, Bonn, and Washington–and earned him a Presidential Distinguished Service Award, the Edward R. Murrow Award for Excellence in Public Diplomacy, and the Commander's Cross of the Order of Merit in the Federal Republic of Germany.
In this book, Tuch shares fascinating stories from his Cold War service in Moscow, Sofia, and Berlin, including Vice President Nixon's 1959 visit to the Soviet Union (and his famous "kitchen debate" with Khrushchev), the U-2 disaster, and other U.S.-Soviet crises. He writes about his friendship with Georg Solti in the 1950s, his attendance at great music festivals––Salzburg, Florence, Bayreuth––and conductors such as Furtwängler, Walter, Böhm, Szell, and Barbirolli and outstanding vocal artists like Schwarzkopf, Callas, Flagstadt, Ferrier, Seefried, and Fischer-Dieskau. He escorted the Boston Symphony on its 1952 European trip, the New York Philharmonic in 1959, and the New York City Ballet in 1962 on their Soviet tours.
In Washington in the early 1960s, Tuch was an assistant to U.S. Information Agency director Edward R. Murrow and, later, deputy director of the Voice of America, ending his Foreign Service career as Minister for Public Affairs in Bonn. His two tours in Germany–in Berlin 1967–70 and Bonn 1981–85–proved especially rich in musical content, with opera, symphony, and solo performances. Since retiring, he and his wife Mimi have frequented the opera and symphonic scene in Washington, especially the Wolf Trap Opera Company in Virginia, with excursions to Santa Fe, Glimmerglass, and New York.
About the Author
TOM TUCH served as a paratrooper in the 101st Airborne Division in Europe in World War II. He earned a BA at the University of Kansas City, an MA at Johns Hopkins University School of Advanced International Studies, and an honorary Doctor of Laws from the University of Missouri. In 1975 he was the Edward R. Murrow Fellow and Visiting Professor at the Fletcher School of Law and Diplomacy. In retirement, he has taught as adjunct professor at Georgetown University's School of Foreign Service and the University of Missouri–Kansas City. He is a founder and emeritus board member of the Public Diplomacy Council and was president of the USIA Alumni Association, a member of the editorial board of the Foreign Service Journal, and a trustee of Youth for Understanding–International Exchange. He has published three other books in addition to articles on public diplomacy, international relations, and opera, including op-ed pieces in the New York Times, Washington Post, and Chicago Tribune.