Back to Memoirs and Occasional Papers
Counterinsurgency in Eastern Afghanistan 2004–2008: A Civilian Perspective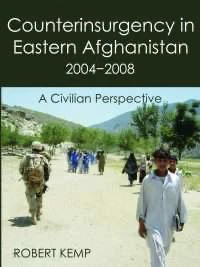 After the 2001 ouster of the Taliban from Afghanistan, the United States and its allies found themselves in a country devastated by a series of wars. This book looks at how, working with their Afghan counterparts, they engaged in a complex effort to rebuild security, development, and governance, all while fighting a low-intensity war.
Drawing on his experience on the ground, Robert Kemp gives us a firsthand, unfiltered view of how U.S. military and civilian officers coped with a confusing, constantly changing situation along the border with Pakistan. It looks at how they developed programs and methods, such as Provincial Reconstruction Teams, while learning to work with the Afghans––and each other. Kemp looks at the nature of the insurgency–– how it gained momentum beginning in 2005, turning into a multifaceted, grinding, murky conflict against multiple groups: the Taliban, the Haqqani network, and Al Qaeda. It describes the nature of the border with Pakistan, the complex tribal and ethnic relations, rapid changes in Afghan society, poppy and opium production, corruption, and how the army and police developed. Each chapter analyzes the policies and practices involved, and offers lessons learned.
Eastern Afghanistan is one of the most colorful, traditional, and unique areas left in the world. This book looks at what happened in 2004–2008, as the United States became heavily engaged there.
 "Robert Kemp's candid account of the joint efforts of American military officers and civilians to help local government officials and ordinary citizens in remote, often dangerous areas to reconstruct their war-torn country is a valuable contribution to our understanding of American achievements and failures in Afghanistan. It also usefully illustrates how 21st century challenges have greatly widened the range of activities our diplomats must pursue. "
            ­­––Howard B. Schaffer, U.S. Ambassador (ret.) 
"Robert Kemp's Counterinsurgency in Eastern Afghanistan 2004–2008: A Civilian Perspective is a must-read for all those following developments in Afghanistan since 2001. The book succeeds both as thoughtful analysis and as a practical guide for military and civilian personnel in the field. Perhaps its greatest value is that the approach taken is relevant not only for Afghanistan but also for other regions of the world where similar conditions exist."
            –– Arturo Muñoz, RAND Corporation
Robert Kemp, a U.S. State Department Foreign Service officer, served in Afghanistan from 2004 to 2005, from 2007 to 2008, and for two shorter assignments. He was the Deputy Director of the Pakistan Desk in Washington and also completed several short-term assignments in Pakistan. Other posts have included China, the Philippines, USNATO/Brussels, Bolivia, and Brazil. Kemp holds Master's degrees from the University of Kentucky and the Johns Hopkins School of Advanced International Studies, and was a Dean Rusk Fellow at Georgetown University. He was awarded the Department of the Army Commander's Award for Public Service for his work in Afghanistan.
"There is no work I know that looks at civilian-military operations in eastern Afghanistan in anything like this detail and focus. The whole area of civilian-military cooperation in counterinsurgency is important but little covered by existing books….The section on the nature of district development plans is a distinct addition to the literature––a major focus of the last two years and likely to be debated and analyzed extensively in the future."
–– RONALD E. NEUMANN, U.S. Ambassador to Afghanistan 2005–2007