Back to Memoirs and Occasional Papers
Echoes of a Distant Clarion: Recollections of a Diplomat and Soldier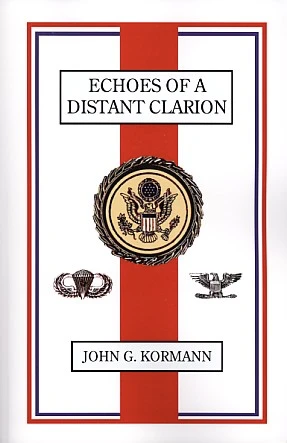 The life story of John Kormann, an adventurous diplomat, soldier, and intelligence officer, offers an inside view of significant events of the twentieth century. Following engaging boyhood experiences, paratrooper training, and combat in Europe in World War II, Special agent Kormann goes behind the lines to apprehend Nazi war criminals and uncover a mass grave. As an Army Counter Intelligence Corps field office commander in Berlin 1945–47, he searches for Martin Bormann and "Axis Sally," rescues a German scientist from the Soviet NKVD in a case that made headlines, and reveals Russian espionage and other kidnapping efforts.
In 1950, as a new Foreign Service officer, Kormann is placed in charge of three counties in Bavaria in the final days of the American occupation of Germany. Later he is involved in the abortive Hungarian Revolution, international efforts to deal with the Russians, the U-2 spy plane affair, and the Berlin Wall. He was political officer at Embassy Manila at the onset of the Marcos regime; officer-in-charge at Embassy Benghazi, Libya, when it was attacked and burned during the 1967 Arab-Israeli War; deputy chief of mission at Embassy Cairo during the Kissinger Middle East "shuttle diplomacy"; and a member of Director of Central Intelligence George H. W. Bush's staff.
Throughout his diplomatic service, Kormann remained active as an Army Reserve colonel, an expert in special operations, counterinsurgency, civil affairs, and intelligence. He retired after 35 years in government service, joined a presidential campaign staff, and then resumed an active life of painting, writing, and veterans' affairs.