Back to Memoirs and Occasional Papers
Economics and Diplomacy: A Life in the Foreign Service of the United States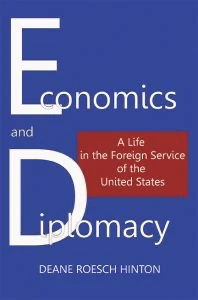 Deane Hinton's memoir presents a reliable firsthand account of the development of U.S. strategic economic policy and the new institutions that became the framework for trade, aid, economic growth, and monetary policy. Hinton was one of a handful of experts on these issues to serve in high policy positions throughout the Cold War. He moved rapidly up the promotion ladder because his knowledge and skills were in short supply at the State Department. State's senior practitioners, and occasionally presidents, called upon his talent for negotiation.
The book recounts Hinton's youth, army service in Italy in World War II, and 48-year diplomatic career, starting with political, commercial, and consular postings and including economic studies at Fletcher and Harvard. In the Paris embassy's Office of the Treasury Attaché, he analyzed French money supply and worked on taxation issues. At State, he became an expert in negotiations to establish the European Common Market, then served in Brussels as a charter member of the U.S. Mission to the European Community.
After a break at the National War College, he worked on commodity issues and Kennedy Round trade negotiations. Subsequently he brought his economic gifts to bear on development issues, serving as AID director and economic counselor in Guatemala and Chile. Recalled to Washington, he spent four years in the White House, three as deputy director of the Council on International Economic Policy. Hinton also served as Assistant Secretary of State for Economics and Business in the Carter administration.
Overseas he served in eleven posts, in six of them as ambassador. In Pakistan President Zia lied to Ambassador Hinton about his plans for nuclear weapons, which Zia balanced by lying to the Soviets about his and U.S. support for the mujahadeen. His book is a serious record of events and analysis by a skilled policy maker.
Following military service, Deane Hinton joined the U.S. Foreign Service in 1946. For forty-eight years, he witnessed history at first hand. Few FSOs can match his range of experience: in Europe, the Near East, Africa, South Asia, Latin America, and Washington.
Consular experience, advanced economic training, financial reporting, and intelligence analysis followed a posting in Damascus in the first Palestine War, before working on European issues. Assignments to Latin America and AID led to a White House assignment working on top-level economic issues.
After Mobutu expelled him as ambassador to Zaire, Hinton became ambassador to the European Communities. As ambassador to El Salvador, he faced out-of-control army death squads. Pakistan was difficult but fabulous for its history and sights. Hinton retired in 1994 as ambassador to Panama and a Career Ambassador, the Foreign Service's highest rank.