Back to Memoirs and Occasional Papers
Fifty Years in USAID: Stories from the Front Line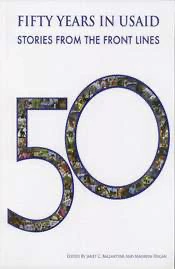 Published in November 2012 by Arlington Hall Press, an imprint of the Association for Diplomatic Studies and Training, this collection contains 115 brief essays by past and present USAID staff and administrators, organized by decades. To celebrate USAID's 50th anniversary, the editors, Janet C. Ballantyne and Maureen Dugan, reached out to all USAID staff, alumni, and all living administrators to gather tales that would tell their story and seek their thoughts on serving at USAID.
When Congress passed the Foreign Assistance Act of 1961 that mandated creation of the United States Agency for International Development (USAID), it brought together several existing organizations and programs, and U.S. foreign assistance experienced a major transformation. In its first decade USAID instituted long-term programming based on country development plans; aided thirty-one newly independent African countries; launched the Long-Range Assistance Strategies, the Alliance for Progress, and the Technical Assistance Bureau; and helped the global smallpox eradication program. Both USAID and the Peace Corps challenged Americans to expand their visions toward the developing world, come face to face with the realities of the people that the United States sought to help––in Africa, Asia, the Middle East, and Latin America.
The 1970s saw USAID initiatives in Vietnam that combined economic and technical assistance and the counterinsurgency pacification program known as CORDS. USAID joined with the French, the multidonor Club du Sahel, and nine West African states to administer the Sahel development program. Rising concern with population growth in developing countries resulted in USAID's successful Population and Family Planning Program. And the 1978 Camp David Accords led to major U.S. military and economic assistance to Egypt and Israel, with a complementary program for Jordan.
The 1980s saw legislation expanding the countries USAID assisted, principally through the Support for Eastern European Democracy program and the Caribbean Basin Initiative. The enlarged scope of its work in health featured the President's Emergency Plan for AIDS Relief and the Child Survival Program. The Urban Development policy focused on private sector job opportunities, education, health, community development, and housing, and assisting the urban poor.
New countries, a continuing focus on major disasters, and a heightened interest in democracy and governance programs dominated the 1990s, as seen in support for the newly independent states of the former Soviet Union, disaster assistance, and a democracy initiative focused on strengthening democratic representation, respect for human rights, governance, and encouraging democratic values.
Now in the 21st century, USAID is involved in major reconstruction and development programs in Iraq and Afghanistan, new natural disasters, and new directions in agriculture, health, and education. The newly created office of Director of Foreign Assistance oversees USAID, State Department, and other foreign assistance programs.