Back to Memoirs and Occasional Papers
Forever on the Road: A Franco-American Family's Thirty Years in the Foreign Service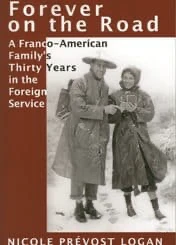 Nicole Prévost Logan's overview of the life and work of an American diplomatic family over thirty years in ten countries on three continents reveals her hands-on approach and her pride at a career spent mostly in the field. The couple's cosmopolitan upbringing enriched the empathy they felt toward the different cultures they encountered.
Logan approaches each country with a voracious curiosity, learning about its history, political system, and culture. She seems to enjoy the constant discoveries, thrives on difficulties, and spices up her story with personal, often humorous commentaries, especially about her husband Alan. In portraying him, she reveals much about the role of a Foreign Service officer and their postings in Taiwan, Turkey, Lebanon, the Soviet Union, Guinea, Nigeria, Tunisia, Belgium, South Africa, and the Gambia.
Against an exciting backdrop of civil war, political coups, and turmoil, the story reads like an adventure. It touches on U.S. foreign policy in the Far East, turmoil in the Middle East, "thaw" in the Soviet Union, U.S. economic assistance and the future of Africa, the coming together of Europe, and the end of apartheid. Although the author does not consider the book to be academic, she conducted thorough research in writing it and hopes it will interest a wide readership, including diplomats, academics, and art lovers.
NICOLE PRÉVOST LOGAN grew up in Paris, where she graduated from "Sciences Po" and earned a law degree from the Sorbonne. She has master's degrees in political science from Stanford University and in Russian studies from American University. After thirty years of diplomatic life, she concentrated on archaeological expeditions and published several articles on digs in Tunisia, Israel, and Russia. She sailed with her husband on the Black Sea, the Baltic, the Adriatic, the Aegean, and the Mediterranean and later traveled down the Volga by sailboat. She has four grown children and divides her time between Connecticut and Paris.