Foreign Service Officers come from diverse backgrounds, yet share one common interest of promoting American interests abroad. However, how do diplomats utilize their unique experiences while in the field? Cynthia Farrell Johnson built important local connections through her talents as an artist and was coined an "artist diplomat." While serving in Côte d'Ivoire, Benin, Panama, Uruguay, and El Salvador, Johnson sketched and painted unique aspects of a country's culture.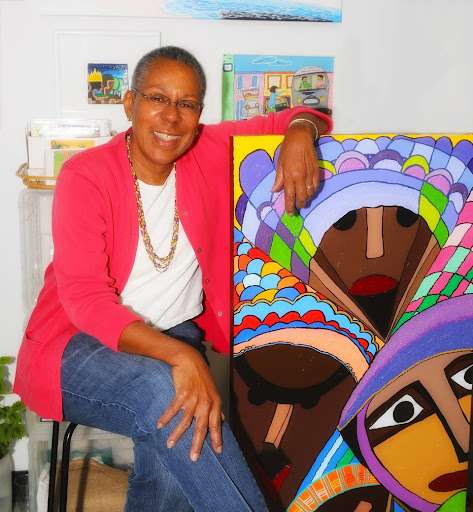 Johnson's art was well received by local communities who appreciated a foreigner taking the time to observe, capture, and highlight their country. Art helped facilitate numerous connections for Johnson and furthered her efforts as a public affairs officer.
From as young as she can remember, Johnson has always had a deep-seated love for drawing and painting and has carried it with her throughout her career. After deciding a career as an art teacher was not right for her, Johnson explored a career as a librarian. While working at the Sojourner Truth Library in the World Studies Center at the State University of New York in New Paltz, Johnson developed a love and fascination for world cultures. After earning her masters in library science, Johnson worked at the Brooklyn Public Library and applied for the Foreign Service. Following her acceptance and initial training, Johnson embarked on her first tour to Côte d'Ivoire as an assistant cultural affairs officer. As a first tour officer Johnson held an art exhibit at the cultural center in Abidjan. Throughout her career Johnson was able to nurture her passion for art, hold art exhibitions at all of her posts, and advance public diplomacy efforts through local connections.
Johnson is a veteran of over thirty years in public diplomacy. In addition to her five tours overseas, Johnson served as a Career Development Officer in the Office of Senior Level Assignments in the Bureau of Human Resources, as Deputy Director of the Office of Public Diplomacy and Public Affairs in the Bureau of Western Hemisphere Affairs, and as an instructor on the Public Diplomacy faculty at the Department of State's Foreign Service Institute. Johnson left the Foreign Service in 2005 to establish her own art business, yet continued to be involved with public diplomacy at the State Department.
Cynthia Farrell Johnson's interview was conducted by Peter Eicher on May 11, 2018.
Read Cynthia Farrell Johnson's full oral history HERE.
Read more about the use of art in the foreign service HERE.
Drafted by Kellie McSween
ADST relies on the generous support of our members and readers like you. Please support our efforts to continue capturing, preserving, and sharing the experiences of America's diplomats.
Excerpts:
A Budding Artist
"I cannot remember a time when I wasn't drawing."
JOHNSON: I'm still in touch with my elementary school art teacher, Mrs. Carole Teller. I still call her Mrs. Teller after all these years. She's retired, living in New York, but we still keep in touch. She encouraged me, when she saw how much I enjoyed painting and drawing—and my father and mother also encouraged me. I should say that it was my mother who probably got me started down that road because we would go to church and I would be fidgety. For me, it was so boring listening to these adults talk about something I could not understand…My mother always carried a little notebook or a little pad in her purse to make notes. When I got too fidgety, she would draw something and then give the pad to me, and I would just get totally engrossed in drawing something, and that's how she kept me quiet in church. I cannot remember a time when I wasn't drawing. From as early as I can recall, my parents got me little paint sets for Christmas—you know, paint by the numbers. Unfortunately, I would always run out of paint before I had filled everything in, which I found very frustrating, but they would humor me and encourage me and they would get me extra little supplies and paints. And the elementary school art teacher, Mrs. Carole Teller, when she had some leftover paint, she would let me have it so I could do stuff at home. There were a lot of adults who encouraged me.
Artist, Librarian, Diplomat
"I had planned to do art, but because I was looking for a job with a pension, I got a degree in library science."
Courtesy of Cynthia Farrell Johnson
JOHNSON: From 1972 to 1976, I was an undergraduate at State University of New York in New Paltz, New York… New Paltz had a respected art program, so that was the attraction. At the time I started college, I thought I wanted to be an art teacher, and then after doing a semester program where one was introduced to art education at the campus school, I decided well, maybe not. I switched to art history so that I could go to library school because by then I had a part-time, college work-study job at the Sojourner Truth Library in the World Studies Center, which was a collection of books and periodicals on Africa, Asia, and the Middle East.
… I do remember at the time that I was there, there was lots of enthusiasm and interest in the wider world, and people who were visionary realized it was important to start studying China and getting a better handle on what was going on in Africa. As I was shelving and putting things away, I would also flip through magazines about different parts of the world; of course, that fed my interests. And then the woman who ran the World Studies Center, Dr. Corinne Nyquist, was also inspiring. She and her husband had been in South Africa because he was an African studies professor and had been awarded a Fulbright. They had suggested I consider working for the State Department, because I was interested in languages and foreign travel and a career overseas. But I looked at the booklet and I said oh, State Department doesn't look really interesting to me. I want to do something with culture. I didn't realize that in the back of the book there was something on the United States Information Agency (USIA). I only saw the front part so it wasn't until many years later that I discovered ah, there's this thing called USIA and they do culture, so maybe that might be a possibility.
JOHNSON: I graduated with a BA in art history, and then went to library school, for the master's in library science at Pratt Institute…I had planned to do art, but because I was looking for a job with a pension, I got a degree in library science. My first after school job was working in Brooklyn Public Library.
JOHNSON: …During that time is when Barnard's library director, Robert Palmer, went on a Fulbright in the Philippines, and when he came back, he suggested that since I liked languages and was good at that, I should apply for a librarian position at the U.S. Information Agency. That organization had libraries overseas, he continued, and maybe I could get a job there. So, I wrote away to the U.S. Information Agency, asking about their job opportunities, but I didn't hear anything in a timely fashion, so I just went about life, finished my degree, and got a job with Brooklyn Public Library.
Q: Very nice.
JOHNSON: One day, I get this letter, or maybe it was a phone call, I can't remember which now, asking me if I'm still interested in a Foreign Service career. While I wouldn't be eligible for librarian jobs because at the time that I'd written the letter I was clerical and one had to have five years of professional library experience, but that there were some other options and if I was interested they could send me more information. Apparently, the person I had written to did not follow up on a lot of communications. My letter ended up at the bottom of an in-box, and when a new person, Beverly Hendrix, rotated in, she found it. Ms. Hendrix was in charge of minority recruitment. She sent me a package of the information and I applied to the minority recruitment program where one had to send all college transcripts, write an essay, and jump through all kinds of hoops and fill out all kinds of forms…The process continued and eventually I got an invitation to come in for the orals.
I went and did the orals and had the good fortune of staying with a childhood friend who was living in the D.C. area. Florizelle "Florie" Brathwaite Liser, had gone to SAIS (Johns Hopkins School of Advanced International Study) and she schooled me on the oral exam.
Florie said if you don't know the answer, say so, don't try to finesse it, just be honest. That was the best advice because I got an unexpected question at the one-on-one interview…Back to the one-on-one at that time—the examiner asked me, "What could you tell me about U.S.-Canada relations and what might be some of the problems, and what might we do to address them?" And I just looked at him. I'd been reading the newspaper and focusing on the Middle East and all this other stuff, and he's going to ask me about Canada? So, I looked at him and I said, "I can't think of anything." He said well, just take your time. And then I remembered something, saying "Oh yes, I read this article in Library Journal about how the Canadians are very upset that U.S. books flood their markets and it's very hard for Canadian writers to rise to prominence, so they had instituted a program where you got extra points or something for when you purchase Canadian books and Canadian materials and you could redeem them for other things." I couldn't remember the details, but it was an incentive program to highlight Canadian arts. So, I said that probably applies to a lot of other things in a lot of other areas, and what was the rest of the question? And he said that's okay, that's fine. Then we talked about what I would do if I were in a place where there wasn't television and good radio and how would I entertain myself. To which I said oh, no problem, I'd just paint. I would go out and sketch and then come home and paint. So, he asks what kind of painting do you do? And I said well, a lot of people tell me it looks like Haitian art. Then he says oh, my wife and I have donated some of our art for an exhibition on Haiti at the Brooklyn Museum. And I said oh, I saw that show, because it was not too far from where I was living. We just had this nice conversation.
Q: You hit it off.
JOHNSON: Indeed.
First Tour in Abidjan, Côte d'Ivoire
"Every place where I've served, I've done an exhibition."
JOHNSON: …Every place where I've served, I've done an exhibition. What I found is that people appreciated the fact that I was taking the time to really look for what was unique in their country and study and observe the surroundings. Before I left the U.S., my Foreign Service colleague Rosemary Crockett said something along the lines of,"Now, just don't go around taking a bunch of pictures. Folks don't like that. Ask if it's okay to take the picture before you take a picture." So, I decided I was not going to ask anything; I would just do a little sketch and not put in faces, keeping it anonymous. So, actually, that's what I started doing. I'd just see something and maybe I'd do a little sketch right then and there, but a lot of times I would draw something later based on what I remembered. What was nice was when I went on those trips with the self-help officers, I was the official photographer, so I did end up taking lots of pictures and it was okay to take them. Based on those photos, sometimes I would do paintings that were composites of different things that I had observed, along with something from another photograph.
Q: So, you ended up doing Ivorian-inspired art while you were there?
JOHNSON: Yes, exactly.
Q: And did that sort of meld with your earlier Haitian-inspired?
JOHNSON: Well, yes, I mean, because as I continued going from place to place people kept saying oh, that looks like Haitian art. Yes, well, yes.
Q: Right. And for a first tour officer to be giving art exhibits at the cultural center is pretty unusual I would think.
JOHNSON: Yes. And I designed a few covers for the little newsletter that we sent out. The bulk of the content came from ARS-Paris; they put together articles in French and we would insert locally generated articles that the Ivorian staff would write. During my time there, I did the cover art for a couple of issues, like for a holiday cover and things like that.
Art in Cotonou, Benin
"And when the folks at the newspaper found out that I was an artist they wanted to come and see my art and see the studio and wanted to take a picture of me painting. That was a nice introduction to people—oh, here's an artist diplomat."
Q: So, how did you go about your work? This must have been hard as a second tour officer arriving in a new country. What do you do, get on the phone and just start calling university professors and radio stations?
JOHNSON: Well, the wonderful thing about USIA was the locally engaged staff. They knew everybody, and they outlined a plan, saying, "Okay, we're going to go visit this person, this person and that person." You make your rounds, meet people, and the fact that I was an artist and I set up a studio in one of my extra bedrooms fascinated people. Since I was single and I had all these bedrooms, I turned one into my art studio. And when the folks at the newspaper found out that I was an artist they wanted to come and see my art and see the studio and wanted to take a picture of me painting. That was a nice introduction to people—oh, here's an artist diplomat. I think that overseas, people have a little more regard for artists than they do here in the U.S. In other countries, visual artists often are part of the intellectual class and sometimes have a little bit more influence on social and political issues than they do here in the U.S. It depends, but on the whole, I would say we visual artists have less influence here at home. Being an artist was something that helped open doors and helped me meet people. I guess it put me in a non-threatening light as someone approachable because I was actually travelling to different parts of the country and then painting things that I saw, things that were unique to the country. I told people that those were my postcards to myself so that I would remember the things that caught my eye that were different from other places where I'd been. Folks were flattered that someone was taking the time to actually look and see what was unique about their country.
And there was a lot that was unique in Benin. There were three different museums—one in Porto Novo, one in Abomey, and one in Ouidah. They represented a fascinating history for each of those regions. The museums told the story of the different kingdoms and political forces in the country. So, yes, it was unique.
Q: Did you paint people or scenes or all of the above?
JOHNSON: Yes, a little of everything. I'm not a portrait artist, so I wasn't painting people in a realistic manner. A lot of times I just would paint people with no faces and viewers would always ask, "Why are there no faces?" It was generic. Because I don't go out and then sketch or take pictures and then reproduce what I've seen in a sketch or the picture. I make these visual notes and then I do these composites of things that strike me or scenes that are memorable. You can tell it's from that country but not the exact location.
Q: Well, it made you a little bit of a celebrity too, I suppose.
JOHNSON: I guess, a little bit, yes.
Q: And if you were sitting in a small town or a village sketching, would this attract a lot of interest?
JOHNSON: Well, I usually didn't sit in a small town or village and sketch, oftentimes because we were traveling around to, say, visit self-help funded projects. This is the fund that the ambassador has to help local towns or villages, say, build a dispensary, a clinic or a schoolroom or something like that, and the government agrees to staff it and we help. We give money to buy the supplies and then the townspeople or the villagers build the facility. So, when we would go for the ceremonies to open those buildings, we would, of course, take pictures and that was cool and sometimes I'd just keep snapping. And then, later on in the hotel I might take out my sketchbook and do some sketches of things that I remembered. So, yes, whenever we traveled, sometimes riding along in the car I would be sketching as I looked out the window if something caught my eye.
Table of Contents Highlights
Education
BA in Art History,State University of New York 1972–1976
MA in Library Information Science, Pratt Institute 1976–1978
Joined the Foreign Service 1980
Abidjan, Côte d'Ivoire—Assistant Cultural Affairs Officer 1980–1982
Cotonou, Benin—Public Affairs Officer 1982–1985
Panama City, Panama—Information Officer 1985–1989
Montevideo, Uruguay—Public Affairs Officer 1992–1996
San Salvador, El Salvador—Public Affairs Officer 1996–1998