The Collection (Available August 2023)
Latest News
ADST's Afghanistan Project Presented at the Oral History Association's Annual Conference in Los Angeles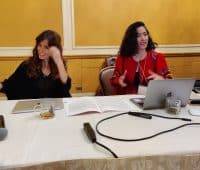 October 22, 2022 At the 2022 Oral History Association conference in Los Angeles, California, Afghanistan Project Manager Eva Meharry (left) presented the opening of ADST's special project to collect oral histories about U.S diplomacy and engagement in Afghanistan in the last 20 years, culminating in the August 21, 2021, Kabul evacuation. Eva teamed up with Gaisu Yari (right), Director of the Afghan Stories Project, who talked about her work collecting oral histories of Afghans involved in and impacted by the evacuation. The presentation was well received and underscored the importance of collecting and documenting history when it happens.
ADST Launches "Oral Histories of U.S. Diplomacy in Afghanistan" Special Project

August 23, 2022  We are pleased to announce the launch of an Afghanistan oral history project. ADST has received philanthropic grants from The Rockefeller Foundation and the Carnegie Corporation of New York for a special project, "Oral Histories of U.S. Diplomacy in Afghanistan, 2001–2021." The project aims to collect oral histories of diplomats and other officials who served in Afghanistan or were otherwise involved with U.S.-Afghanistan policies, including the 2021 Kabul evacuation. 
The two decades of U.S. intervention in Afghanistan from 2001 to 2021 constitute an important period in our history, and the voices of those who participated in it can provide invaluable historical material. The project will allow us to ensure that this critical moment in U.S. diplomatic history is recorded and preserved as part of our Frontline Diplomacy: Foreign Affairs Oral History Collection, which is accessible via our website and that of the Library of Congress. The collection will be a useful resource to ADST's wide readership of practitioners, researchers, historians, educators, and prospective diplomats.
If you are interested in learning more, you can follow the project updates on our website here or please contact our Afghanistan Project Manager, Dr. Eva Meharry, at [email protected].